Jump to recipe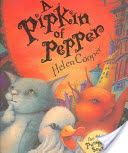 When my children were little, one of their favourite books was A Pipkin of Pepper by Helen Cooper. I had to read it over and over. It begins…. Something was bubbling in the old white cabin. What was in the cooking pot? Pumpkin Soup. Made by a Cat, a Squirrel and a Duck, waiting for just a pipkin of salt, to make it the best you ever tasted…
Whilst the story is more about getting lost (and found again), my kids' abiding memory of the tale is of the delicious soup the animals prepared. Needless to say, we went through a lot of pumpkin in those days. Now teenagers, they still love Cucurbits* in all their glorious forms.
Pumpkins are at their seasonal best in the cooler months so with winter in full swing here in Australia, I've found the perfect recipe for them when they return home from Boarding School this weekend. I know they will be ravenous.
Featuring slow-cooked lamb and pumpkin as the star ingredients, I defy you to find a more satisfying or filling meal for a frosty winter's day. What's more, it is a one-pot dish, which can be cooked on your stovetop. This is an added bonus if, like me you are time poor. I heartily encourage you to give it a go. It will serve 4 easily. I'd serve this dish with a bowl of steaming greens along with a Bordeaux or Rioja.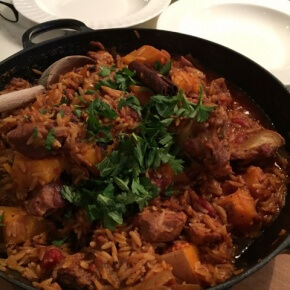 Ingredients
2tbs olive oil
1kg lamb shoulder, fat trimmed and cut into 4cm cubes
2 brown onions, sliced
2 cinnamon sticks
1tsp dried chilli flakes
1tsp dried oregano
400g can cherry or diced tomatoes
3 and a half cups quality chicken stock
400g pumpkin, cut into 4cm pieces (I used butternut as it is easy to cut and you can leave the skin on)
200g orzo or risoni pasta
Instructions
Heat oil in a large heavy-based flameproof dish or pot. Brown the lamb in batches over high heat. Transfer to a plate.
Add onion to pan and cook over medium heat, stirring, until softened. Add cinnamon, chilli and oregano and cook for 1 minute or until fragrant. Return lamb to the pot.
Add tomatoes and stock and bring to the boil. Reduce the heat and cook for 2 and half - 3 hours or until lamb is tender. Skim off any excess fat.
Add pumpkin and orzo and cook for 15-20 minutes or until tender. Season with salt and pepper.
Serve immediately.
I urge you to take a look at the
Origin LPG website
for some more fabulous winter-warming recipes.
*The Cucurbitaceae family, also known as Cucurbits or Gourds are a plant family which consist of around a hundred genera, the most important of which are squash, marrow, pumpkin, zucchini, gourds and watermelon. All are technically a fruit.
This post brought to you in partnership with Origin LPG.