Jump to recipe
If you're looking for an easy recipe that never fails to impress, go no further than this
Potato and zucchini tart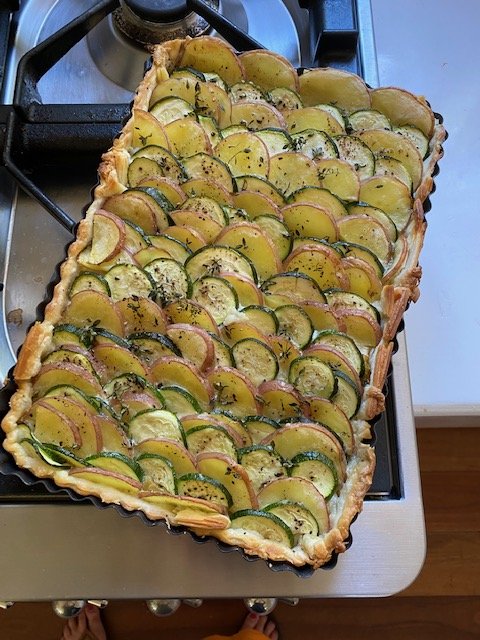 Ingredients
2 leeks, trimmed and finely sliced
1 Spanish (red) onion, finely sliced
Salted butter
2-3 sheets of thawed puff pastry
5-6 large desiree potatoes finely sliced and halved
4-5 zucchini, finely sliced on the round and halved
Small handful of thyme or lemon thyme, leaves only
150g thickened cream
Handful of quality Parmesan, grated
S&P
Spray oil
30cm x 20cm loose-based rectangular tart/flan dish
Instructions
Preheat your oven to 180c fan-forced.
Place the leeks and onion into a large frying pan with a good knob of butter and sauté on low heat until they are super soft, almost caramelized. Remove from heat and set to one side until cooled.
Spray your dish with some oil.
Place your thawed puff pastry into the dish, pushing down around the edges. Try and have an overhang of around 1cm.
Spoon the onion and leek mix onto the pastry and spread out evenly.
Now have fun arranging your potato and zucchini on top of the onion mix. I sit mine at an angle and try and keep a little bit of space between each piece of vegetable (they tend to crisp up more effectively this way). When you're happy, gently push them down so they are sitting well within the mix. Add dollops of the cream evenly across your veg, add a a good crack of salt and pepper and sprinkle with the parmesan.
Pop into the oven for around half an hour or until golden and bubbling. Serve immediately with a crisp green salad (which cuts through the richness of the tart) and a glass of wooded chardonnay.