Jump to recipe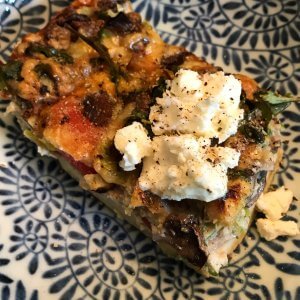 A few people have asked for my recipe for mushroom frittata. It makes the perfect quick lunch or light dinner and is also great to make for a "take a plate" function.  I made a large frittata so halve the quantities if you are making in a small dish. If you want to beef it up a bit, consider adding some bacon or fresh salmon.
Mushroom, Rocket and Thyme frittata
Ingredients
12 eggs
A good splash of full cream milk (or some pouring cream)
Small splash of Worcestershire sauce
2 tablespoons of plain flour
400g sliced mushrooms.  I used a mix of White and Swiss
Large handful of Rocket (Arugula)
6 large spring onions, finely sliced
Handful of shredded Parmesan cheese
10-12 grape tomatoes, halved
Tablespoon of fresh thyme leaves (no stalks)
A jolly good crack of black pepper and sea salt
Small sprig of thyme leaves for garnish
Instructions
Preheat your oven to 180c fan-forced.
Grease the dish you will be using with some olive oil.
In a mixing bowl, whisk the eggs, milk, flour, Worcestershire, Parmesan and salt and pepper until well combined.
Now add the rest of the ingredients and stir gently until all is combined.
Pour into your dish, top with the sprig of thyme and bake in the oven until cooked through and lovely and golden on top; generally 30-40 minutes depending on the size of the frittata.
Serve with a dollop of quality Persian feta on top and a small green salad.
Enjoy!
What's your go-to frittata recipe?  I'd love to know.
Until next time…