Jump to recipe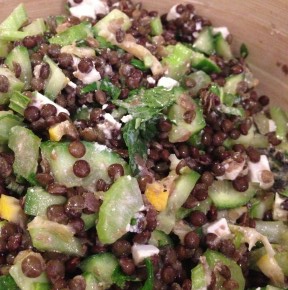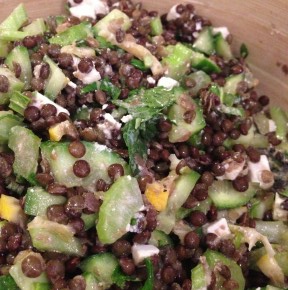 Do your kids like pulses?  Mine aren't mad about them but once upon a time they made this warm salad and scoffed the lot.  I tend to sneak it into our family cooking routine once every couple of months.
Lentils are an excellent source of fibre, iron, potassium and a stack of other goodies so are well worth always having on hand and serving as often as you can, particularly if you are a woman of um, er a certain age…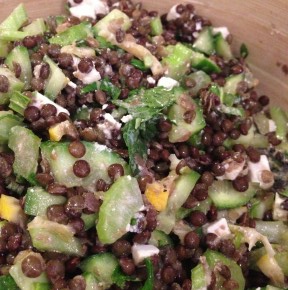 Ingredients
1 cup quality lentils (Puy, black or blue)
2 sticks celery, finely chopped
2 small Lebanese cucumbers, finely chopped
1 small lemon, peeled then finely chopped (save a little of the skin to zest over salad, no pith)
Juice of 1/2 lemon
Good swish of quality EVOO
Good swish of quality red wine vinegar
150g feta cheese
1 large roasted beetroot (remove skin), chopped
Handful of sultanas
Large handful of parsley, finely chopped
Large handful of mint, finely chopped
S & P to taste
Instructions
Rinse the lentils in some water in a fine sieve/colander to remove any dust or impurities. Now put them in a saucepan, add water to just cover and simmer for 40-45 minutes or until soft. Drain, rinse under cold water and place into a large salad bowl.
Add all the remaining ingredients (except the beetroot) into the salad bowl and toss gently to combine. Taste and adjust. If it's a little too tart add a sprinkle of raw sugar.
Arrange the chopped beetroot on top and serve immediately.
I served the salad with a roasted beef fillet, creamy mashed potatoes and a glass of Pinot Noir. (Water for the kids of course!)
The salad also goes beautifully with chicken, pork or fish.  It is also delicious eaten by itself or piled on top of some well-toasted ciabatta.
What's your go to salad?
Until next time…