Jump to recipe
I'm at the farm with a couple of girlfriends this week.  The weather has been super crazy (welcome to Australia), culminating yesterday afternoon with a cyclonic dust storm and a huge, fat black snake at the back door.  Truth be told he was probably as scared as we were of the wind.  After we had run around like mad women and momentarily freaked out, we brought the pups indoors, closed the doors and in a nervous fit, I decided to bake.  I admit to opening the chardonnay before starting to cook.  Using the ingredients I had to hand, I made the simplest and most delicious frittata.  It will serve around 8-10 people.  I encourage you to give it a go.  We haven't seen the snake again by the way, so that's something.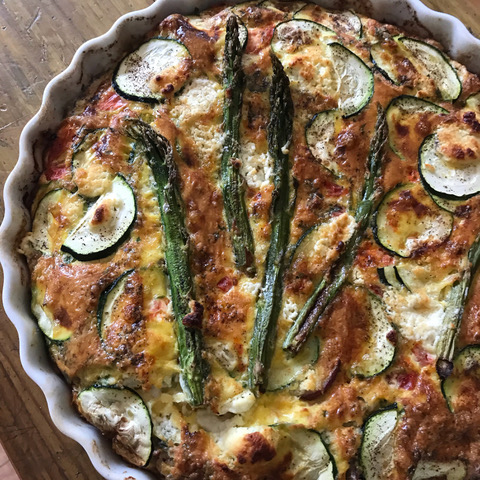 Ingredients
10 eggs
1 tbs self-raising flour (omit if you want GF)
1 210g tin red salmon
Half a large zucchini, sliced on the round
Small handful of chopped red capsicum
Small handful of chopped tomato
Half a red onion sliced
5-6 trimmed asparagus
1 large handful of finely chopped fresh herbs (parsley, thyme, sage, basil)
Half a jar of quality soft goats cheese, crumbled
salt and pepper
2 large handfuls of chopped Cos lettuce
Lemon Juice
EVOO
Instructions
Preheat your oven to 180 fan-forced. Grease (I use softened butter) your quiche/frittata dish.
Crack the eggs in a bowl and whisk well. Add the flour and whisk again until combined. Now add the salmon, capsicum, tomato, herbs, onion and a good crack of pepper and salt and mix well to combine. Pour gently into your dish and stir about to ensure the ingredients are evenly spread. Now top with the goats cheese, zucchini and asparagus. Add another crack of pepper and salt. Pop into the oven and bake for around 20 minutes or until cooked through and golden on top.
Serve with a simple salad of lettuce and a drizzle of olive oil and lemon juice.
A bottle of chilled chardonnay is a must.