Jump to recipe
Every now and then I get things right on the cooking front.  This generally occurs when I don't follow a recipe and use up whatever needs eating in the fridge.  And so it was last weekend. With the weather finally starting to cool and winter making itself felt (thank the God of Small Things), it was time to make a pie and I decided that Snapper Pie was in order (you could also make this recipe using chicken). I made it in a ceramic baking dish about 9x11cm, so it is big and will feed up to eight people.  I'm afraid my quantities are approximate as I just added things until I was happy, so be aware of this and be prepared to adjust quantities if needed.  I also cheated and used a bag of frozen winter vegetables (carrots, broccoli and cauliflower). It is really very simple so I urge you to give it a go as it's hard to stuff up and is utterly delicious. Start by preheating your oven to 180c fan-forced.
Snapper Pie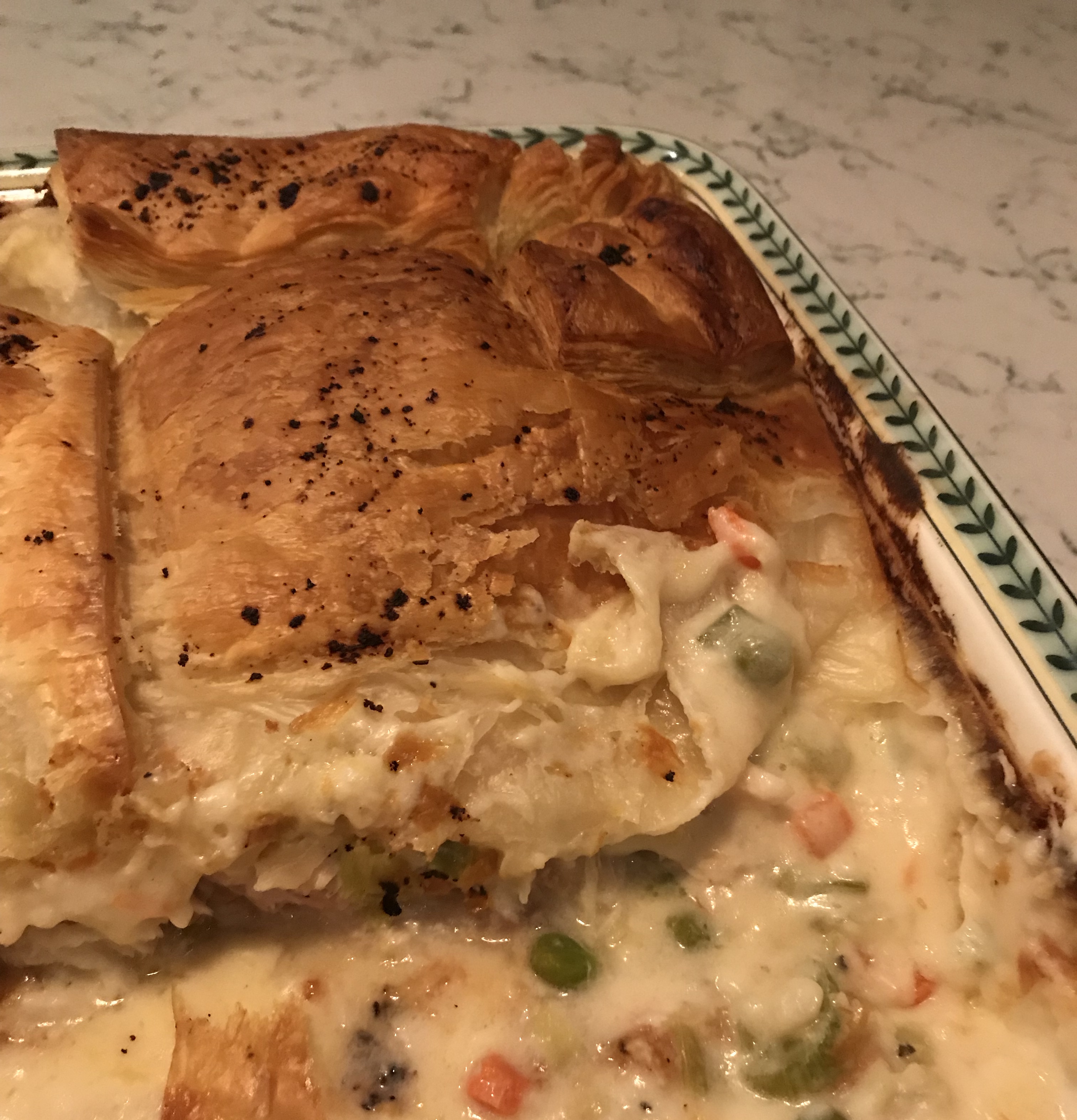 Ingredients
6 deboned Gold Band Snapper fillets
6 tablespoons plain flour
6 tablespoons melted butter
600mls full cream milk (possibly more)
200g grated Parmesan cheese
Zest and juice of one lime
1kg bag of frozen vegetables
Small bag of frozen baby peas
1 small red capsicum, deseeded and finely chopped
10 spring onions finely chopped (or 1 large leek)
Small handful of parsley and fresh thyme, chopped
1-2 sheets of thawed puff pastry
A few handfuls of trimmed green beans
Salt and pepper
Instructions
Take the puff pastry out of the freezer and let thaw.  Now you can start making your white sauce.  A lot of people freak out when attempting this, thinking that it can curdle or burn.  Nothing could be further than the truth.  If you are nervous, google "simple white sauce" and a million instructions will pop up. However, I suggest you just follow me here. Imagine my hand holding yours. Melt your butter in a medium sized saucepan and then add the flour.  Stir with a wooden spoon until it forms a soft paste.  It should come away from the sides of the pan.  Now start adding the milk, a little at a time, whilst constantly stirring. Once the milk starts to combine, add a little more and so on.  The paste will start to resemble a sauce and will thicken, which is the symbol to continue adding a little milk.  Add in a hearty pinch of salt and pepper and the Parmesan whilst stirring.  Once it has reached a consistency you are happy with (think thick gravy), you can stop adding milk. Taste and adjust if necessary and you are done! The whole process should take no longer than 10-15 minutes. Set to one side. 
Arrange the spring onion, herbs, vegetables and fish into your ceramic baking dish. Pour in the lime juice, sprinkle with the zest and mix with your hands to combine.  At this point you can add in more veg if you wish; it is entirely up to you. 
Pour the white sauce over the fish and vegetables until they disappear under the gooey goodness.  Place the puff pastry over everything, tucking it in and around the corners.  You could melt a little more butter and brush the pastry with it, but I can never be bothered doing this. You may find you have some white sauce left over which to my mind is a delicious bonus as it will keep for a few days in the fridge and can simply be reheated and used in a pasta dish or over vegetables. 
Pop into your oven and bake for 30-40 minutes or until the pastry is crisp and golden.
Quickly cook your beans in a saucepan of boiling water.  I do this last as it gives the pie time to cool a little. It will be stinkingly hot when it first comes out of the oven.
Serve with a cheeky Pinot Noir. Enjoy!
What's your favourite pie?  I'd love to hear all about it.
Until next time…