Jump to recipe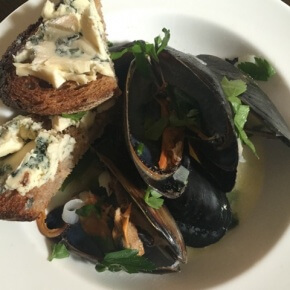 As a child, one of the first meals I cooked with my mother was Moules et Frites (Mussels and Chips). I remember to this day, washing and removing the stubborn beards of the mussels, all with a slight feeling of concern, as they looked somewhat like the grubby molluscs that clung to the local sea baths at Brighton Beach. The Baths were often packed to overflowing with toddlers, which, I suspect is why the water was warm in patches if you get my drift.
Anyway, enough of that; thankfully the ones we used had been purchased that morning at the local fishmonger and were fresh, shiny and smelt of the sea (as opposed to pee).
Moules et Frites is the simplest of dishes requiring a minimum of ingredients and cooking time. It is a recipe impossibly hard to get wrong, which is also why it's a perfect dish for your kids to prepare.
Despite the lack of ingredients, it's packed full of flavour and it's such good theatre! It's kinda messy, with big bowls overflowing with full (then empty) mussel shells, juices slopping about, dribbling down chins, and of course the bonus for everyone, all the crunchy goodness of shoestring fries* on the side. Invented by the Belgians, it's thought that they first began eating this particular dish along the Flemish Coast in winter because mussels and potatoes were plentiful and cheap. I too, love serving Moules in winter when the heat from the steaming bowls fogs up the windows, there's a fire blazing and there's a footy game on the TV. Casual, family eating at its best.
There are a million recipes for Moules et Frites with just about as many variations on the original, but this one from the team at Origin LPG caught my eye with the interesting addition of blue cheese croutons. I'd still serve the frites as well. Easily prepared on your gas stove top; I heartily urge you to give it a go. It can be on the table in less than half an hour. It will serve 4.
Ingredients
20g butter
1 leek, chopped
3 garlic cloves, crushed
2 x 1kg packets cleaned, live black mussels
375g bottle dry apple cider
1/2 cup chopped continental parsley
4 large slices sourdough bread
120g soft blue cheese e.g. Castello
600g cooked chips/fries of your choice
Simple green salad (optional)
Instructions
Heat a large saucepan/wok over medium heat. Add butter and leek and cook, stirring for 5 minutes or until softened. Add garlic and cook for a further minute or until fragrant.
Meanwhile place mussels in a colander and drain. Rinse with cold water and drain again. Place in saucepan with the cider.
Cover and cook over high heat, shaking occasionally for 3-5 minutes or until mussels open (discard those that don't open). Turn off heat, keep covered.
Heat a char-grill on high. (A toaster will do if you don't have a char-grill). Toast the bread on both sides. Spread with the cheese.
Spoon mussels and broth into big bowls and sprinkle with the parsley. Place a piece of the sourdough on top.
Serve immediately.
It is compulsory that this dish is served with a cold and crisp Chardonnay or Chenin Blanc, although my husband would probably argue in favour of a Pinot Noir.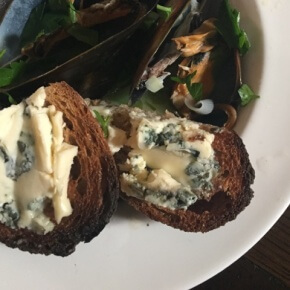 I really urge you to visit the Origin LPG site. They have a fantastic selection of recipes up on their site at the moment.
*If you don't have time to make the fries, a couple of crunchy baguettes will do, although the blue cheese croutons provide a good crunch and would more than suffice.
This post is brought to you in partnership with Original LPG.