Jump to recipe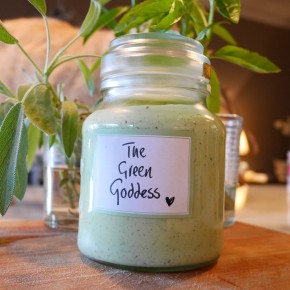 Legend says this sauce was first made by Chef Philip Roemer at the Palace Hotel in San Francisco in 1923. He wanted to pay tribute to the actor George Arliss and his hit play, The Green Goddess. However, it is simply a variation of Sauce Au Vert (Green Sauce) which initially appeared at the court of Louis XIII. Then, apparently, the sauce was served with green eel.
Wherever it originated, it is simply the most delicious sauce or dressing. It goes with just about everything and is dead easy to make. Do have a go at making it. You may well find it becomes a staple in your cooking armoury ~ makes about 3 jars.
Ingredients
2 cups of a combination of green herbs such as parsley, tarragon, chervil, coriander or basil, chopped roughly
3 eschallots, peeled
2 large cloves of garlic, peeled
juice of 2 lemons
1 large piece lemon rind ~ no pith
1/2 tsp chilli flakes (optional)
2 tsp. sea salt (kosher salt)
1 tsp. freshly ground black pepper
1 cup quality egg mayonnaise
4 anchovy fillets
1 cup quality soured cream or creme fraiche
Instructions
If you have a Thermomix, place all ingredients into the bowl (except sour cream) and blend, speed 7, for 20 seconds.
Add the sour cream and blend, speed 7, for a further 15 seconds until smooth. Adjust to taste. Refrigerate. Will last in the fridge for up to a week. The original recipe doesn't use lemon zest or chilli but I think they add further zing. If you don't have a Thermomix, chop all the ingredients as best you can and then whiz, blend, bamix ~ use your weapon of choice ~ to get it to a fine, creamy texture. When choosing your herbs, simply select those that you most prefer.
A more traditional green sauce? Chervril, Tarragon and Parsley are best. A bit of an asian twist? Coriander, Basil and Garlic Chives could be used. Just experiment and have fun!