Jump to recipe
My son, (he of extraordinary olfactory ability), announced yesterday that summer was here. He'd got a whiff of Star Jasmine on the way home and found me chopping mangoes as he arrived in the kitchen. "That's summer Mama, right there on that plate" he exclaimed. And whilst we've still got just under a month until the official beginning of summer, he's right. The smells, sights and sounds of summer in Australia are certainly with us. Agapanthus (redolent of my childhood holidays spent on the Mornington Peninsula) are bursting forth while young boys are doing their best to knock the heads off on their way to school ~ wretched boys. Breezes are becoming warm and smell of the sea. Koel birds have returned to send us mad with their excruciating early morning call, shops are starting to display their Christmas goodies and I'm beginning to worry about just how I'm going to fit into my bathers…
For many it's also a time of reflection and gift giving. Every s.i.n.g.l.e. year I try to think of a simple recipe I can make in large quantities for use as a Christmas gift. And every year, I fall back on the same recipe ~ Mango Salsa.
Why? Because it's the perfect accompaniment to the thousands of glazed hams that will be cooked and served over the Christmas period. And it's all the more welcome just at the point when you've given up trying to think how you'll serve yet more leftover ham.  It also goes so well with many other dishes, including pan-fried prawns or fish, grilled steak fresh off the BBQ, lamb cutlets, roasted chicken, simple pasta meals or used as a dressing atop a salad. You name it, a good mango salsa adds a huge dollop of "wow". This is my promise to you.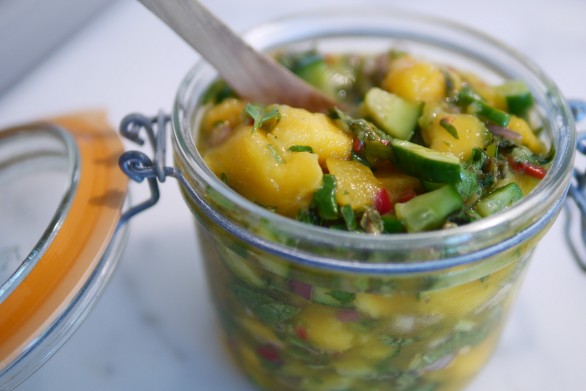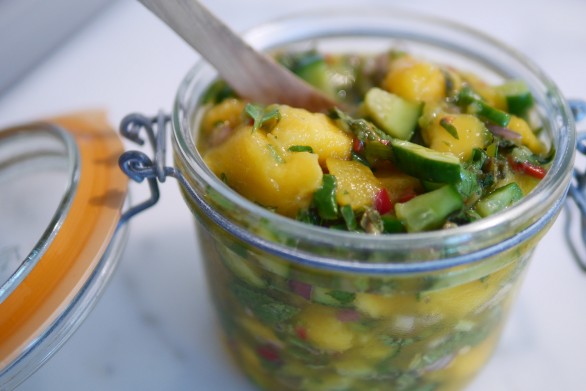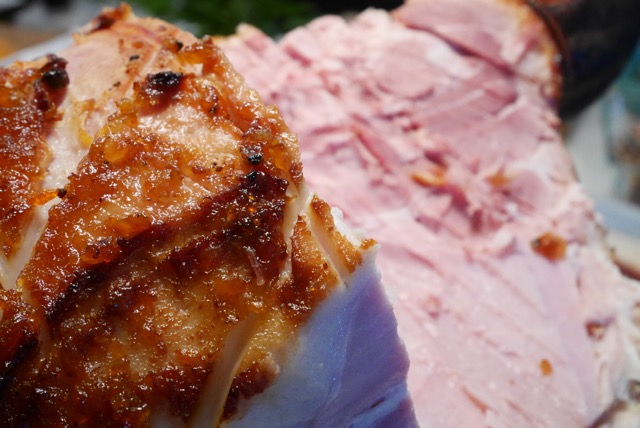 So here's my go-to recipe:
Notes
Will keep in the fridge for around a week.

Ingredients
The flesh of 4-5 firm but ripe mangoes
1/2 – 1 small red onion, finely diced
2 small Lebanese cucumbers, finely diced
The juice of two limes
1/2 bunch coriander leaves, roughly chopped
1/2 bunch mint leaves, roughly chopped
1/2 bunch Thai (Holy) basil, roughly chopped (ordinary basil will do)
6 leaves of Vietnamese mint (optional ~ it has a very distinctive flavour)
2 long red chillies deseeded and finely chopped
The arils of 1/2 pomegranate (optional, but bloody delicious)
A sprinkle of coconut sugar (brown sugar will do)
A good crack of salt and pepper
Instructions
Put all the ingredients into a bowl and combine thoroughly using your hands.
Taste and adjust if necessary.
Spoon into small decorative jars, attach some pretty ribbon and a gift tag.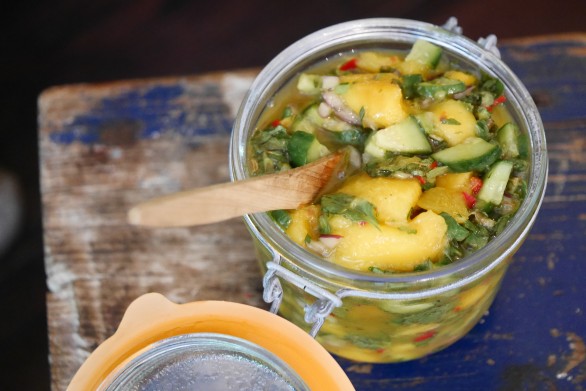 Et voila! An instant gift that is cheap to produce and always wins the heart of the recipient.  I tend to double the quantities above so I have plenty to keep for myself. Um, well maybe sometimes I triple. Sue me.
For some other ideas on great edible gifts head to Best Recipes.  They are also running a really cool competition called Home Cook Hero.  Each month (through until September 2015), they're giving someone $1000 for the most original recipe following a particular theme. The winning recipe will be recognised online – at one of the most popular recipes sites in the country, PLUS the recipe will feature in Super Food Ideas magazine which has a huge readership.  So if you're a keen cook and/or budding food writer enter now and each and every month.  I freely nominate my Mango Salsa as a Home Cook Hero recipe.  Although my Green Goddess sauce is pretty awesome too.
What is your go-to Christmas gift idea that doesn't cost a bomb?
Until next time…
This is a sponsored post. Thanks to the team at Best Recipes.