Do your kids like bread? Mine do, but it has to be white, or at a push wholemeal. Introduce additional grains or seeds and they run a mile. This is especially the case when I make them sandwiches. Given they are adventurous eaters with everything else, this has always perplexed me. Then it occurred to me that they see sandwich bread as a means to an end.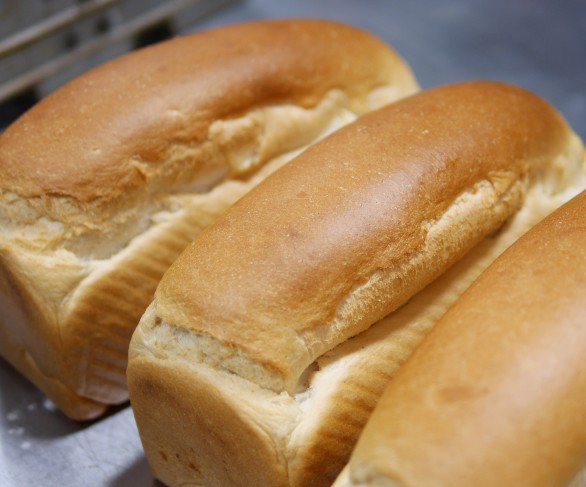 That is, it's what's in the sandwich that interests them rather than the taste or texture of the bread. Indeed they believe that the bread should not have much flavour at all so the contents of the sandwich can star. So, I'm no longer going to beat myself up if the kids demand white bread. It's my view that if they are getting a balanced diet including fibre from other sources, it's all good. And truth be told, is there anything yummier than a sandwich made using the freshest of soft white bread with a healthy swipe of butter and vegemite? I don't think so.
Many people are under the illusion that white bread is bad for you. Truth be told, it's not really. Sure there are breads that are better for you, but the humble loaf of sliced white gets a bad rap. I visited Tip Top the other day and met with some really passionate bakers who debunked some common myths:
Tip Top white bread contains the following:
Wheat flour
Soy flour (for added fibre)
Water
Yeast
Salt
Vinegar (a natural preservative)
Canola oil (to help bind the dough)
They also add extra fibre, vitamins and minerals at the point of mixing.
The flour is not bleached, there's no added sugar or chemical preservatives. Much of the good stuff in the wheat remains in the end product. White flour is simply wheat with the outer husk (or bran) removed. It still retains all the goodies contained within the inner endosperm including carbohydrate, protein, fat, iron and some fibre.  Committed to demystifying the perceptions we have about bread and its uses, Tip Top Bakeries yesterday launched their A Grain of Truth initiative. Visit the website and you'll find every fact and figure you could hope for about bread and how important it is for a balanced diet, particularly the consumption of healthy carbohydrate. I became totally absorbed reading through it all.  Dr Joanna McMillan has also devised some scrumptious sandwich fillings and if you visit the main Tip Top site you'll find even more recipes for school lunch boxes. It's well worth visiting both sites if you struggle with sandwich ideas or you want to know the truth about bread.
Meantime, you might want to try a couple of bread recipe ideas of mine.
Toad in the hole (or Egg in the basket)
Strictly speaking Toad in the Hole is sausages cooked in yorkshire pudding batter (yum) but it can also refer to this simple recipe. Take a piece of bread and cut a hole in the middle using a biscuit cutter or an upturned glass.  Lightly fry on one side with a little EVOO (I prefer using butter) until golden. Flip over, crack an egg into the hole and cook until egg is as you would like it. Serve with a crack of pepper and some parsley.  Kids love the theatre of this dish.
French Toast
Whisk a couple of eggs and a little milk into a bowl. Dip bread into the mix until coated. Place into a fry pan (with a little butter) and fry until golden. You can use wholemeal bread here because the egg mix disguises the colour of the bread. Top with a splash of maple syrup and some blueberries. Alternative toppings include chopped banana with a sprinkle of crushed hazelnuts, or if you prefer savoury flavours, try spreading a little mashed avocado with chopped tomato and basil on top ~ delicious! French Toast is a weekend go-to in our home.
Peasant Bake
Make your favourite bake.  I use lamb chump chops, roughly chopped onion and garlic, chopped celery, chopped baby potatoes, tinned tomatoes, pitted black olives, roughly chopped english spinach and carrots, a splash of beef stock, S&P to taste and a sprinkle of raw sugar. Put into a large baking dish and mix ingredients through.  You can brown the chops prior to this, but I can never be bothered to do that.  Top the bake with roughly torn pieces of white bread (a little stale is preferable) and spray with some olive oil.  Flatten it all down slightly and pop into the oven at 160% for an hour or until all ingredients are cooked through and the bread is toasty golden. Serve immediately.
Jam Salad sandwich
Make this sandwich and I guarantee your children will eat it. It doesn't go soggy either. Onto the bread start by spreading one piece with raspberry jam and the other with peanut butter (allergies allowing). Now add grated carrot, capsicum and/or beetroot for colour, finely diced celery and/or cucumber for crunch and some lettuce. Essentially just add colourful salad ingredients. Pop the bread slices together, squish down, cut in half and serve. I used to eat this regularly as a child so can vouch that it is super yummy.
What is your favourite sandwich?
Until next time…
This is a sponsored post.