Jump to recipe
Looking for an easy dish to serve for lunch or dinner? With delicate Asian flavours, low in fat, yet warming and filling, I urge you to give this one a go ~ it might just end up being a staple in your recipe repertoire.  I found the original recipe on the Origin LPG website but have tinkered with it ever so slightly. It truly is scrumptious.

Soy-poached salmon, soba noodles and winter greens
Notes
You can use any variation of greens you wish. Gai Lan, Broccolini, Pak Choy, Bok Choy, Snow Peas (Mangetout), Asparagus, Tatsoi ~ whatever takes your fancy.

Ingredients
6 cups quality chicken stock
2 tbs soy sauce
1 tbs rice wine vinegar
4 x 150g skinless boned salmon or ocean trout fillets
40g quality soba noodles (fresh or dry)
1 bunch baby bok choy, quartered (see Notes)
1 bunch Gai Lan, roughly chopped (stem and leaf)
1 spring onion (scallion) finely chopped
200g snow peas, roughly chopped
2 tbs mix of black and white sesame seeds, toasted in pan
1 small lebanese cucumber, finely diced
Handful of micro herbs for decoration
1 long red chilli (deseeded) finely chopped ~ optional ~ only for those who want a bit of heat
Instructions
Place stock, soy sauce and vinegar in a medium saucepan and bring to the boil.
Reduce heat to low and add salmon.
Simmer over low heat for 10 minutes or until cooked to your liking.
Using tongs, transfer salmon to a plate. Cover with foil and set aside.
Bring poaching liquid to the boil again.
Add noodles and cook for 2 minutes or until tender.
Add your greens and chilli (if using) and cook for a further 1-2 minutes or until just tender.
Serve noodles and broth, topped with salmon, cucumber and sesame seeds. Sprinkle with the micro herbs and serve immediately.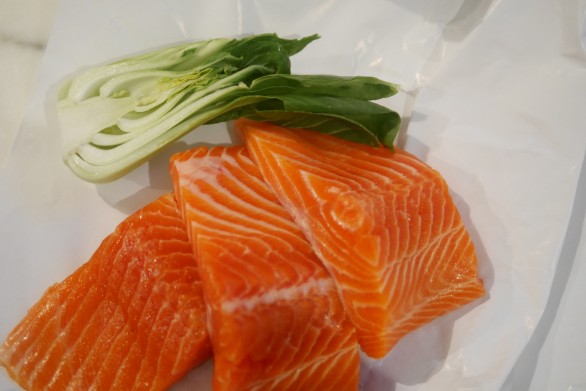 Enjoy!
Until next time….
NB. This is NOT a sponsored post.