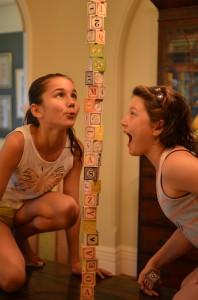 When I was little, I had two toys, which were stand out favourites. One was a pair of Click Clacks, which sadly got tangled up the top of our Weeping Willow after an over zealous 'click' on my behalf. I had to wait 5 years for the tree to fall down so I could retrieve them. The other was a small wooden dog whose ears were articulated. So whilst his sweet little face had only one static expression, I could make him look surprised, sad or happy simply by moving his ears about. I took him with me everywhere and while all my friends were loving their Holly Hobby or Velvet dolls, I was most content with my little bit of wood.
I also had wooden Cuisenaire rods (remember them?) and a beautiful set of blocks which would be considered 'retro" in look now. Why am I telling you this? Because Andrea at Button Baby has a passion for wooden toys so has decided that September should be known as Wooden Toy Month. Oh crikey, another "month" I hear you groan. Well, I like this idea. Not only is the humble stick (yes, a simple piece of wood) in the National Toy Hall of Fame as an all-time favourite; every child I know loves the tactility of playing with wood. So, I'm joining her and will happily celebrate all forms of wooden playthings during the month of September.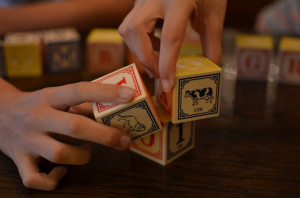 6 reasons I love wooden toys:
Hi-tech toys can distract or in some cases overstimulate young children. On the other hand, simple wooden toys encourage engagement and imaginative play. Having to push, pull or construct (without all the bells, whistles, bleeps and lights of many modern toys) leads to a more focussed, engaged mind.
Wooden toys encourage children to devise their own play rather than the toy directing or prescribing the game. This fosters creativity.
On the whole, wooden toys are less toxic than those made of plastic or other man-made materials. This is especially important for those with babies and toddlers who put everything into their mouths.
Kids love the texture and feel of wood.
They last the distance. Wood is a durable, strong material. Wooden toys generally contain less parts so are less prone to damage or breaks.
They are environmentally friendly.
This is not a sponsored post although Andrea did send my children a set of Wooden Blocks  and a cute little Police Station set. The blocks are almost identical to those of my childhood. And whilst my kids might be considered too old for such toys, they were very happy to spend ages playing with them. My son in particular loved whizzing a wooden helicopter around the room terrorising the cat, who kept trying to get into the cardboard box from whence the toys had come.
*Excluding Teamson designs