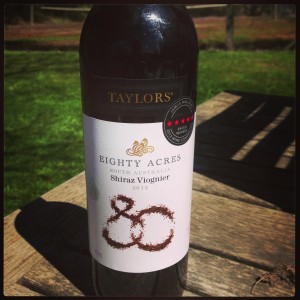 I've just come out of the other side of having 20 people to stay at our farm over the weekend. Given we had a mass of work to do in the garden, it was serendipitous really. Together we made "Albert the Scarecrow", planted our veggies and herbs for summer and handed the ride-on mower over to four very enthusiastic 12-year-old boys. Spring has sprung and the weather was beautiful with Lilac, Clematis, May, Osmanthus, Viburnum and Tea Roses flowering their heads off throughout the garden. We dusted off the outdoor setting and sat outside indulging in some slow-cooked food and a few bottles of sensational red. One such bottle was the award-winning Eighty Acres Shiraz Viognier (2012) from Taylors Wines.
Anyone who knows my husband and me well, knows how much we like a good red. Although, I'll freely admit that, until I met Robert, I usually chose my wine based purely on the prettiness or quirkiness of the label. Slowly, but surely he has educated me to the point where I think I now have a pretty good understanding of what constitutes a good drop. Eighty Acres is one such wine.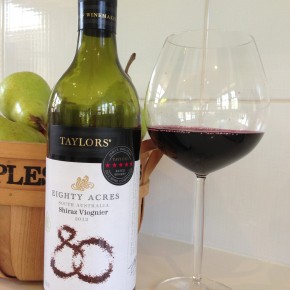 However, what I REALLY like about this plonk is the fact that it's carbon neutral. Since the launch of Eighty Acres in 2009, 4,200 tonnes of carbon have been offset as a result of their carbon neutral commitment. This is the equivalent of more than 21,000 cars being taken off the road travelling between Sydney and Melbourne. I love that. And they have just celebrated the planting of their 10,000th tree as a part of this commitment.
The team at Taylors Wines tell me that they see themselves as dedicated environmental stewards. Their philosophy adheres to the principle that the finest wines are those made with the greatest dedication. They believe environmental care is integral to this and hope other wineries will follow suit.  So do I.
But back to the wine. It's a distinctive medium-bodied wine with aromas of spice and plum. I'm no expert, but it smells "intense" although doesn't finish this way on the palate. I gave my 12 year old (he of the nose) a small sip, who proclaimed that he could taste vanilla and chocolate. I think he's spot on. At only $15.95 it's also a really affordable addition to the cellar.
This is not a sponsored post, although Taylors have given me 6 twin packs of Eighty Acres to give away. Simply be one of the first six to comment on this post and you've won*.  For more info on the range visit the Taylors website
Oh and I should add that I didn't pay for my bottle of plonk and they also sent me a sheet of paper impregnated with Lemon Scented Callistemon seeds (Bottle Brush) which is now planted alongside all our other lovely plants. So sweet of them to do that.
*Open to Australian residents only.
Congratulations to Reika, Briony, Jennifer, Elizabeth, Lesley and Lee-anne for being so quick to respond.  You have each won a twin pack of Eighty Acres.  Taylors will be in touch soon to arrange delivery. x