Here are three simple recipes using edible flowers. Edible flowers have been used for centuries across many cultures in a multitude of cuisines and for a variety of reasons.  More recently, they have become the go-to garnish in restaurants across Sydney and there's good reason. Edible flowers are nutritional powerhouses; crammed full of vitamins, minerals, folate and phyto-nutrients.  They also look so very beautiful when added to the plate. There are two types of edible flowers:
Ornamental: the flower taste varies to the plant itself and generally only the flower itself is edible. Roses (and hips), Day Lilies, Marigolds, English Lavender (Lavendula angustifolia), Hibiscus, Borage, Carnations (pinks) and culinary Sages are a few good examples. Zucchini and pumpkin flowers also fall into this category.
Herbal: the flower tastes the same as the plant. Basil, Rosemary, Thyme, Coriander, Parsley, Tarragon, Nasturtium, Rocket, Chives, Dandelions, Dill, Violas and Pansies, Marjoram and Oregano are common examples.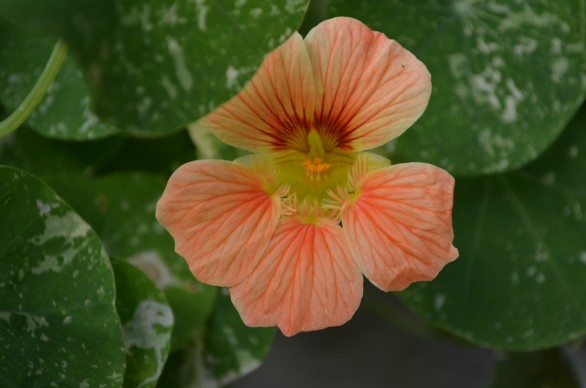 Simple recipes using flowers
Pineapple Sage flowers and Ice Cream (serves 1)
Into a bowl place a good dollop of quality vanilla ice cream. Add a few chunks of chopped fresh Betonga Pineapple.  Sprinkle with the bright red flowers of the Pineapple Sage. Aptly named, these flowers taste a little like pineapple.  You can add a drizzle of honey,  a small crack of black pepper and a grate of nutmeg if you wish.
Nasturtium, Marigold and Quinoa Salad (serves 4)
Into a large bowl put some cooked (and cooled) organic Quinoa (about a cup's worth).  Mix through some toasted pumpkin seeds, some roughly chopped Persian feta, a small handful of wild rocket leaves, some roughly chopped cooked butternut pumpkin, a small handful of chopped coriander and a tablespoon of currants.  Sprinkle with nasturtium and marigold flowers.  A simple dressing of red wine vinegar, finely chopped ecshallots and EVOO is optional (but delicious).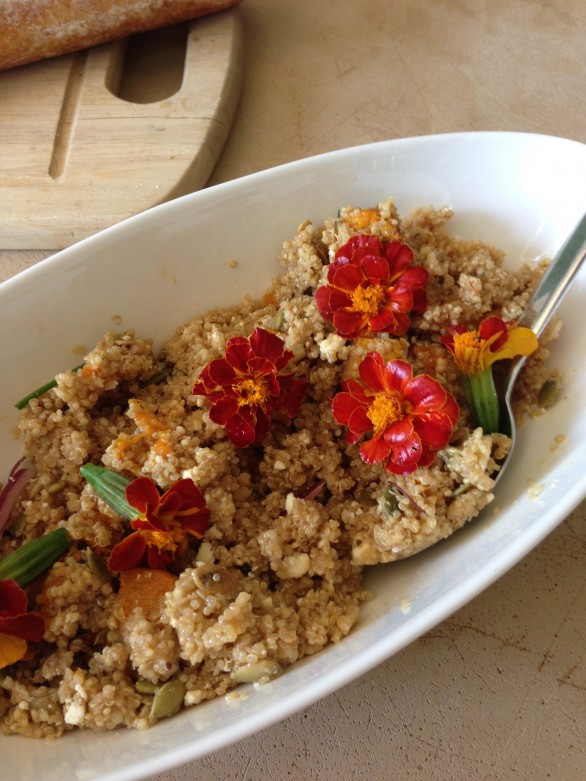 Rosemary Skewers (serves 4)
Take 8 large branches of flowering rosemary (about 15-20cm long). Wash gently and pat dry. Strip off all the leaves, except for the top 2-3cm flowering section.  (Keep the leaves you have removed). Set your new skewers aside in a bowl of warmed water to soften the wood. This makes them more pliable.
Chop some red, yellow, orange capsicum, red onion, Betonga pineapple, Haloumi cheese and lamb backstrap (or rump steak) into bite-sized pieces and thread onto your skewers, alternating each of the ingredients.  Drizzle with EVOO, sprinkle with the rosemary leaves you have saved, a crack of salt and pepper and grill on the BBQ until cooked to your liking.  Serve with a green salad, sprinkled with violas, nasturtium and marigolds.
6 reasons to use edible flowers
They are good for you.
On the whole they are easy to grow and add colour, movement and scent to your garden.
Many edible flowers attract bees and other beneficial insects to the garden.
Kids (and fussy adults) are more likely to be adventurous with food (especially salads, soups, frittatas, quiches and casseroles) if you make the meal look funky and pretty using flowers.  For example, if you give a child a bowl of steamed broccolini that is flowering, drizzled with a little oil or a knob of butter and topped with toasted flaked almonds, I guarantee they'll be tempted to give it a go.
Flowers lift the spirit.  Adding them to the meals you prepare (particularly for children) is like giving them sunshine and happiness on a plate.
Using flowers in the kitchen provides children with some lovely lessons on food and food sources.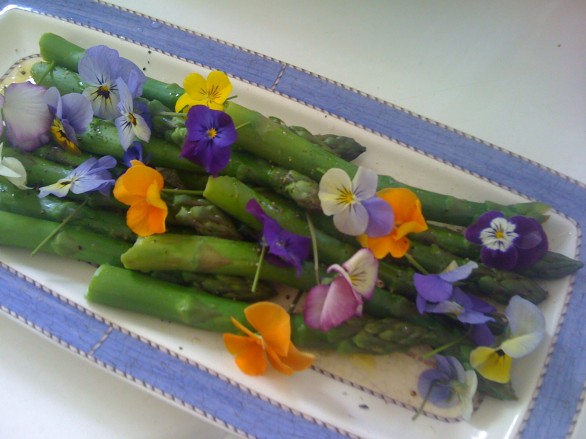 It is VITAL to teach children early on what is edible and what is not.  Simply put; kids should always check with an adult before eating something from the plant world. If you, the adult, are in any way unsure, don't eat it.  For example, not all lavenders or sages are culinary.  Some plants have flowers that are edible but their seeds are toxic and so on. Always check with someone in the know.
Further, always check whether the plants have been exposed to herbicides or pesticides. If they have, don't eat unless the chemical's withholding period has concluded.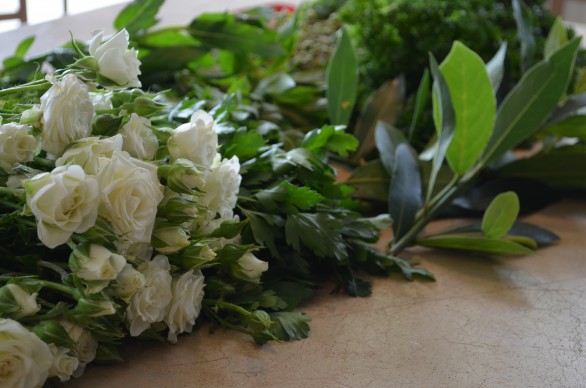 Until next time.