If ever there was a perfect post for me to write, especially as my introduction to the readership of Caro and Co, it is this one.
When the opportunity arose to attend GiveAbility Day held at Westfield centres 6 July 2013 to assist children living with a disability and their families it was a no brainer really.
The proceeds of GiveAbility Day 2013 are to be shared with The Cerebral Palsy Alliance in NSW/ACT, who happened to visit us yesterday for Speech Pathology therapy and our local Wesfield Centre at Figtree was supporting Para Meadows Special School, where my eldest daughter is a student. Told you it was perfect didn't I?
My eldest daughter Gracie, who recently turned 8, is a gorgeous and giggling princess, who has severe and complex disabilities as a result of birth trauma but who lights up the world of all who meet her, including the lovely people at Westfield Figtree.
Gracie and I had a lovely morning and forgive me if I gush about the staff at Westfield Figtree and how enthusiastic and genuine they are in their support of this event.  Belinda and Tina jumped at the chance to be photographed with Gracie and had posted the photos on their own social media sites before I had even left the building.  They were excited to be involved and hoped to raise around $3000 for Para Meadows on the day.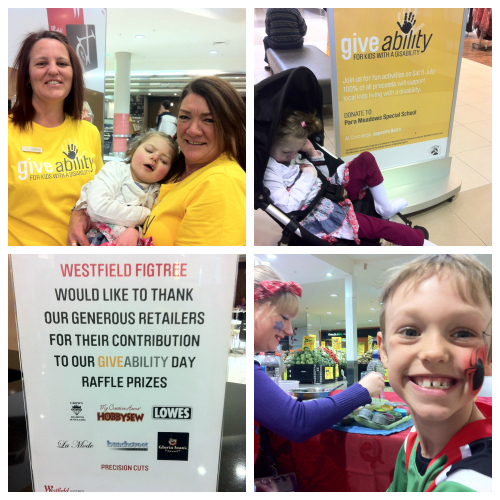 Between 10.30am and 1.30pm visitors were invited to enjoy a sausage sanga at the sausage sizzle, (always a winner) as well as fun activities for the little ones including face painting, balloon animals, and have fun at the PlayDough tables. As someone who hates the mess of PlayDough at home I thought that was a particularly good idea!  All of the activities were available via a gold coin donation and it was great to see the queues of families ready to be involved and show their support.  Daffy Duck was also visiting the centre but sadly our paths didn't cross so that Gracie could have a cuddle.
Krista from Paint Me Perfect was painting faces and the first cab off the rank was Max who kindly posed like a professional when I asked to take his photo. Gracie had her face painted also and Krista was sensitive to her needs thanks to her experience painting faces during school holiday programs at Para Meadows Special School. Krista was the perfect choice for the job, pun intended.
Raffle tickets were also on sale thanks to the generosity of the shop owners in the centre who willingly gave prizes and you can still donate online at www.westfield.com.au
As a parent of a child who will directly benefit from GiveAbility Day it was genuinely heart warming to see what a great event this was and how sincere the staff and volunteers were in giving their time and support.
Thanks Westfield Figtree, Belinda, Tina, Krista and all the other staff and volunteers. You really did give your best.
Until next time…. Susan