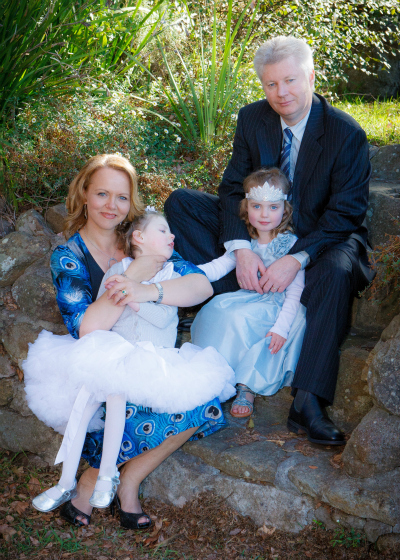 Being new here at Caro & Co, I thought I better introduce myself… so here are 10 things you need to know about me!
My two girls, Gracie, 8 and Sophie, 5, along with their part time Rock god/ Full time Financial Controller father Mark, are the centre of my world.  Gracie has severe and multiple disabilities and Sophie is the opposite end of the developmental range.  One of them is my greatest challenge in life and it's not the one you'd expect.
I'm somewhere between a helicopter parent and a free range one.  I think kids should be able to play outdoors with age appropriate levels of supervision, get dirty and learn lessons the good old fashioned way.  Eating dirt won't kill them.
I have regular chats with Sophie about reaching for the stars and assuring her that anything is possible. She knows she can be anything, for example a doctor or a teacher, a builder or an engineer when she grows up. (No gender bias in our house).  At the moment she wants to be a sheep. I'm so proud.
I'm a sun protection zealot.  My girls don't wear shoe string straps or bikinis outside and especially during the hottest hours of the day. It's long sleeved cotton shirts, wide brimmed hats and rash vests all the way for our family.  That skin is far too precious for exposure to harsh rays.  My best friend almost died from a melanoma. Enough said.
I'm 'annoyingly positive' according to my husband.  The glass is just about always half full.  Combined with the fact I've never really grown up and tend to get excited about little things I have a tendency to gush and over share. Don't say I didn't warn you.
When I'm not writing I get to fundraise for children's health and publicly advocate for disability rights.  Sometimes I even get paid for doing it.  I think I'm pretty damn lucky as I love it and I think it makes a difference. I hope so anyway.
I plan to run a half marathon. I got close this year but life got in the way. Middle aged overweight women can actually run. I'm slower than a herd of elephants through peanut butter but I'm still a runner. Watch this space!
My maiden name was Argument. Yes, really
I'm the youngest child of 5 and the only girl. As if having 4 brothers wasn't bad enough I have a twin brother and still get asked if we are identical. Seriously? Think about it.
Penthouse offered me $7000 for a photo shoot when I was 21.  No, I didn't do it!
Till next time…. Susan