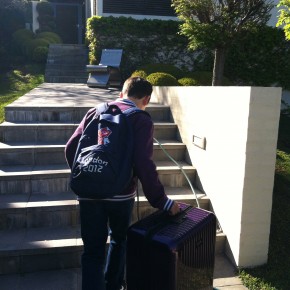 A couple of weeks ago, my son Angus set off on a 35-day trip* around the world with his Grandmother. They will visit 5 countries; catch 9 airplanes, 2 helicopters, 1 train, numerous buses and walk countless miles alongside roads with traffic going the 'wrong' way. So today I want to consider resilience because I've needed it in spades since farewelling Angus and Mum at the airport.
Regular readers of Caro & Co would know that I write often about the need to build resilience in our children. I've written about it here, here and here.  And, without apology, I am very likely to write about it again. The many upsides; such as increased creativity and imagination, the diminution of learned helplessness, a greater ability to assess risk and subsequently make informed life choices is well documented and known by educators and parents worldwide.
However, watching Angus walk through the airport gates (with me sobbing like a fool and a knot of rising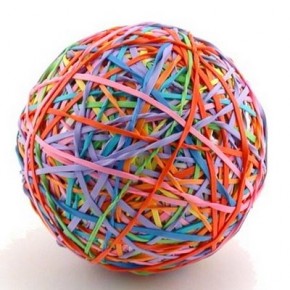 panic and nausea in my tummy) reminded me that it's just as important for parents to keep their own stocks of resilience high. And that perhaps we don't focus on that enough. To ensure that our children grow to be resilient, we must first (and continually) assess and manage what I like to refer to as our parental elasticity.  That is, we should be prepared to stretch our physical, emotional and spiritual 'elastic bands' (i.e. boundaries) beyond our own comfort zones, so that our children can do the same.
Although, this can be a really tough gig. The natural and sometimes urgent impulse to protect, shelter and do (what we perceive as) the tough or risky stuff for our children can be overwhelming.  Being prepared to let your children fail is very, very difficult. However, it's my view that if we deny them the experience of failure, we lessen their ability to learn and diminish the impact that any successes will have on their emotional intelligence.
As Elizabeth Stone once said, "Making the decision to have a child is momentous.  It is to decide forever to have your heart walk around outside of your body."  So true.
A large part of my heart is right this minute flying in a small helicopter through the Grand Canyon, some 23,000 kilometres from me.  I am genuinely delighted that Angus is enjoying such a rich experience, however, every fibre of my being is terrified that something will go wrong and I won't be there for him.  I will find it hard to breathe properly until I know that the helicopter has landed and he is safe. This is a natural feeling, however, on a practical level it's completely daft, given I bought him a helicopter flight in Sydney for his last birthday.  So, in examining my feelings logically, it really comes down to my loss of control.  It has nothing to do with Angus' ability.  And it proves to me that I need to stretch my elastic band out a bit further and trust in his capabilities and those of the people around him.
Here are the things I know:
It is important to let go of your perceptions of the risks involved with the task your child wishes to attempt. They are most likely over-inflated, based on emotion or societal assumptions.
Conversely, when your child wants to do something that you might believe unsafe or risky, consider this. As their parent (or carer) you know which developmental milestones they have achieved and are therefore best placed to know what they are capable of.  Simply put, you won't (and shouldn't) let them attempt it if they are physically or emotionally incapable and could endanger themselves. This is important. It could be pouring something from a saucepan, using a knife for the first time, climbing a tree, walking to school (by themselves) or getting onto an A380 without you. Of all the people in his/her world, YOU know their ability best.
So, trust in your judgement, but equally, be prepared to push your boundary a little. In not letting them 'have a go', they will learn nothing, may pick up on your fear and subsequently become reluctant to try anything even if they are eminently capable of it.
With or without you, they will become more capable as they grow.
Talk to friends and/or other parents for advice and support. It helps.
Be prepared for advice you might not wish to hear.
If they stumble, pick them up and tackle it again another day. Letting them fail is as important as letting them succeed.
As a girlfriend recently reminded me, sometimes resilience comes from circumstances for which neither the child or the parent are prepared. And more than likely after facing the challenge, they will applaud their efforts for successfully managing it and label it as 'character building'.
Don't beat yourself up too much if you decide not to let your child attempt something new today. Instead, think about your elastic band for the rest of the day and let them try it tomorrow, next month or next year – but

do

let them try eventually.
It may help if you write down (in the form of a mantra) what your child 'is'.
Another girlfriend reminded me that we must always remember to "profile courage for our children and prepare to be comfortably dazzled by their great sense of adventure". I like that.
A sturdy elastic band rarely snaps.
20 days into Angus' grand tour and I am re-learning just how important parental elasticity is. And I know that I must continue to stretch it beyond my comfort point, believing with as much certainty as I can muster, that it won't snap and nor will my beautiful son.  I am sure that in so doing, he (and my daughter) will reap the benefit in years to come. How stretchy is your parental elasticity?
Until next time…
*The 'why' of this trip will be the subject of another post at some stage as it's a story of great love.