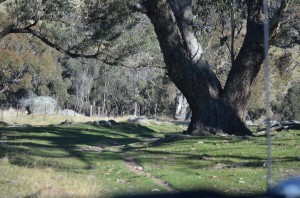 I undertook a small experiment at the farm recently.  Under cover of night I hid the DVD player, the dreaded XBox, the remote controls to the TVs and unplugged the radio.  My plan was twofold.  I wanted to see how long it would take the children to actually figure out that the technology had gone.  DVD player?  15 days.  XBox?  They still haven't realised it's missing.  TV? 2 hours.  Radio?  Next morning, as the alarm didn't go off and we all overslept.  Secondly and of more interest to me; I wanted to know whether my theory that, by unplugging inside, you can more readily inspire children to connect outside regardless of weather is sound.
So, how to get them outside when it's as cold as a witch's whatnot?  My friend Kari at Active Kids Club has a mantra:  No bad weather, only bad clothing, so we began by rugging up, packed a quick picnic basket and headed out.  Normally Grace and I would spend time hunting for items for her found collection or look for fairies.  We had found a particularly gruesome lamb's skull the day before.  Angus and I might muck about in the veggie patch or kick a footy.  On this particular day, none of these appealed.  They moped about and complained.  This from my outdoor warriors! Shock, Horror.  So, remembering who was boss, I resolutely locked the doors to the house and instead, promised them a trip to our secret spot where we fish (we never catch a thing but that's neither here nor there) and the opportunity to light a bonfire.  Our special, secret place is quite a drive from the farm, most of it off-road and I knew that my pretty, but entirely useless European car would never make it.  She only needs to look at an unsealed road and in a fit of pique, instantly gives herself a flat tyre.   Nor does she hold the road particularly well when it's muddy, preferring instead to keep herself clean on bitumen.  So, it was fabulous that Mitsubishi had arrived the night before with a spanking new, top of the range Pajero Exceed.  They had seen my blog and felt a commonality because they too want to encourage people to explore and experience all that the wonderful outdoors has to offer.  Better still they were happy to give me the car for a week and they even filmed the kids and I for a day.  Take a look to see what I think about the car and also take a sneak peek at our special place.
And here too.
I'm not going to prattle on about the specs on the Exceed because, quite honestly, they are Swahili to me. But take a look here if you are interested. What I will say is that it didn't blink at any of the surfaces we took it on. It felt safe, solid and was genuinely comfortable. And I got from the farm to Sydney (300km) using just over a quarter of a tank of diesel. My only regret? I had to return it. She would really like to live at my farm. 😉
Until next time….