Memory is the mother of all wisdom ~ Aeschylus
I was watching the elm blossoms fall outside my window this morning and it led me to think about how powerful and evocative reminiscing can be. You see it reminded me of when my daughter stuck some snow into a journal.  She was about eight at the time and did it after spending 10 minutes excitedly 'whooping' around our garden trying to catch snowflakes on her tongue.  At our farm we are blessed to experience four seasons, but snow that actually settles on the ground for any length of time is a bit of a rarity. As a consequence Grace was super excited to wake and find the white stuff lying prettily across the garden.
Once she had caught the snow, she raced inside, flung open her journal and tipped a few precious flakes onto a page and attached it using sticky tape.  She was old enough to know that it was a temporary measure, but as she said to me later,  "Every time I look at that page Mama, I will remember the fun I had chasing snow in our garden." I like her attitude.
I've long encouraged my children to capture their outdoor memories, believing that in so doing, I'm building within them a lasting love of nature.  We've taken photos, written stories and pasted things into schoolbooks.  We've put things in jars and made homes for insects out of old shoeboxes.
Shells have been lovingly collected and placed into bowls, along with gum nuts that we've then drizzled with fragrant oils to make an instant potpourri or decorated with glitter to make funky arrangements.
You name it and we've probably collected it.
My son has always enjoyed observing the growth of things, especially our vegetables.  He used to love taking weekly measurements of our peas as they snaked their way slowly but surely up a trellis and once I remember he tried to estimate exactly how many kale seedlings were growing in the patch.  62 I think it was.
Reminiscing about these times fills me with joy.
Scent is another great maker of memories. The smell of Daphne in winter and I'm transported back to my grandmother's garden. A whiff of wattle and I can see myself as a child sneezing as we walked home from school. Lily of the Valley and I remember the sweet little wreath I made for Grace's head on her Christening day.
So I've decided I'm going to encourage my now teenaged children to spend time every other month to sit down and reminisce. I'll cook their favourite meal (15 years on and it's still schnitzel, peas and mashed potato) and together we'll explore the memories we have made and those that we hope to create in the future.
What's your favourite memory and are you a collector of them?
Until next time…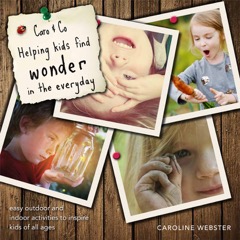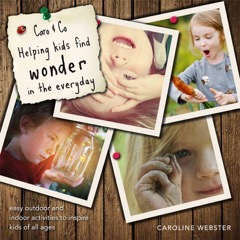 For more tips, advice and ideas on how to find wonder in all you do, look out for my book "Caro & Co ~ Helping Kids find Wonder in the Everyday", published by Sally Milner Publishing. Available from 01 December at all good bookstores and online. For interview opportunities please contact Jackie Evans on 0407 776 222 or jep.pub@bigpond.net.au