Jump to recipe
Today I regained my cooking mojo. She had gone AWOL during the summer break, appearing only sporadically, resisting the thought of joining me even when people visited. Mostly, she eagerly handed me the phone to dial take-out or led me to the sandwich maker. Arsey bugger. But with the sun making a welcome return and with a couple of friends coming by, that mojo (bless her) dusted herself off and set too. Thank the God of Small Things…
I set upon the idea of doing something with prawns and also had a hankering for cooked lettuce ~ no, I'm not pregnant, nor am I mad. Just-cooked lettuce is a much underrated ingredient that can be used in many dishes. The resultant meal was truly so very easy and quite delicious. I encourage you to have your kids have a go at making this dish.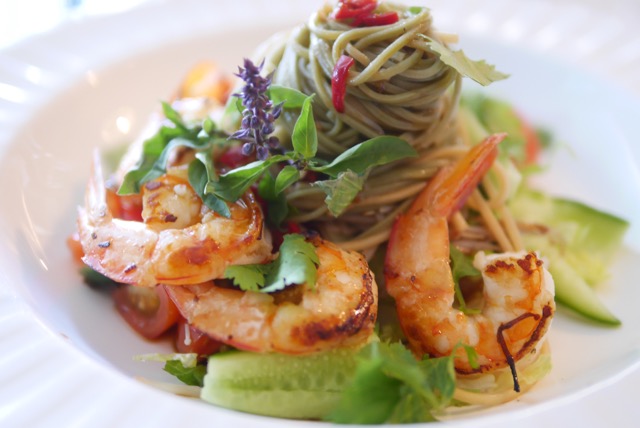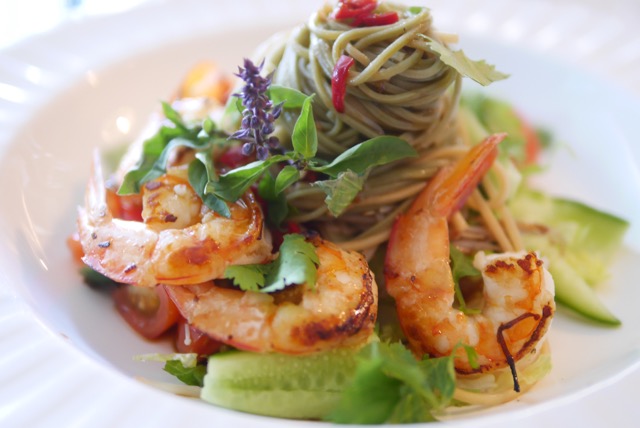 King Prawns with soba noodles and easy Asian dressing
Ingredients
20 green King Prawns, shelled and deveined (tails on)
200g dried soba noodles
1 pkt Enoki mushrooms, ends trimmed
1 small Cos lettuce, finely chopped
12-15 small grape tomatoes, quartered
1-2 Lebanese cucumbers, finely sliced
Small handful of coriander, chopped
Small handful of Holy basil, chopped (leave some sprigs for garnish)
For the dressing:
1 long red chilli, finely chopped
1cm ginger, peeled and finely chopped
2 tbs soy sauce
2 tbs brown sugar
Juice of 1 lime
Good splash of olive oil
Instructions
Let's get started with the dressing. You can make this up to a week ahead. Although, I think I've had a jar of this yumminess in my fridge for months. A bit like homemade yoghurt, I just keep topping it up. I convince myself that the sugar keeps it preserved and free of bacteria. This is probably nonsense ~ however, I'm yet to poison anyone. But I digress.
Make the dressing by combining all the ingredients (adjust to taste) on the day and keep any leftover in the fridge for up to a week.
Now peel and devein the prawns and set aside. Prepare all your other ingredients and have ready to assemble.
Bring a pot of water to the boil and add your noodles. Cook according to instructions or for around 5 minutes until beginning to soften. Drain and refresh under cold water and drain again (to stop cooking process). Put into a dish and set aside.
Into a hot pan, melt some butter and add the enoki mushrooms. Cook quickly, until starting to turn golden. Remove from pan and set aside.
To the same fry pan, add the prawns. (If you don't have a gas stove which is energy efficient and SO much easier to control the cooking process than on an electric stove, use your BBQ). Cook the prawns on high heat until they have lost their opaqueness and are starting to crisp on the edges. This will take no more than a few minutes. Remove from pan and set aside. To the same pan, add your lettuce. Toss and cook until beginning to wilt. No more than one minute.
Take four plates and assemble. Lettuce and enoki mushrooms first, the rest of the salad ingredients and finally the noodles and prawns. Drizzle generously with the dressing, garnish with the sprigs of Holy basil and serve immediately. A cold glass of champagne or non-oaked chardonnay is the perfect accompanient.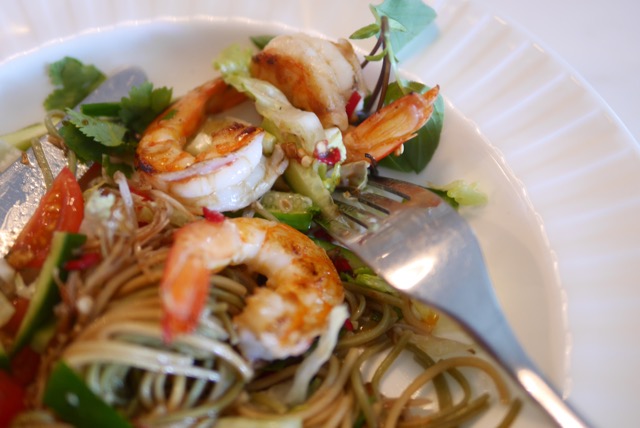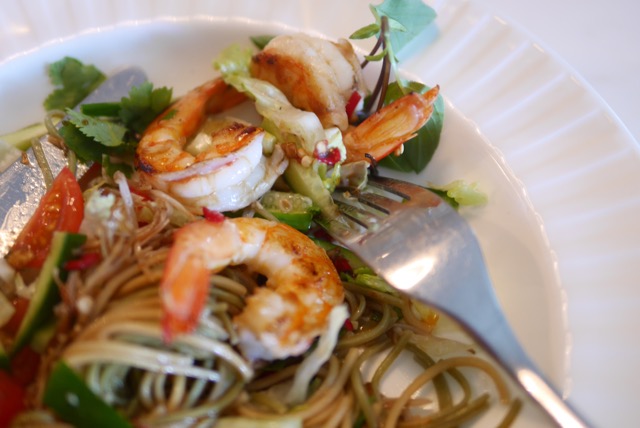 For other great summer recipe ideas or information on cooking with/using gas at home, I encourage you to visit the Origin LPG website.
Have you ever lost your cooking mojo and where did you find her?
Until next time…
This is a sponsored post.