Jump to recipe
I like to think of this salad as Surf n' Turf Asian style.  If you don't make the salad, try the dressing.  It'll keep for days in an airtight jar in the fridge and can be used with a variety of dishes.
I've stopped watching the news.  There is too much sadness. Instead I've taken to watching reruns of I Dream of Jeannie, Bewitched and any food show, which is how I stumbled across an Aussie TV show on Channel 10 called Good Chef, Bad Chef.  They happened to be making this recipe when I switched on the telly.  You can find their original version here.  I changed it slightly to accommodate the less adventurous palettes of kids and doubled quantities as I was feeding 10. I also ~ shock, horror ~ used tinned cocktail prawns because it's easier and they also remind me of a sensational dish I had in Bangkok using baby river prawns. So with thanks and a hat tip to Zoe Bingley-Pullin, here's my version.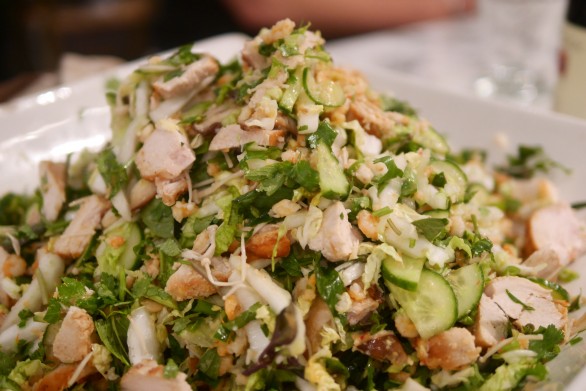 Ingredients
4-5 tins of 200g cocktail prawns, drained (I used Always Fresh, which are very good)
4 chicken breasts, cooked and finely sliced (keep warm)
100g shitake mushrooms, sliced
1 pkt enoki mushrooms, ends trimmed off
2 small lebanese cucumbers, cut lengthways, sliced in 1/2 rounds
1/2 Chinese Cabbage (Wombok), shredded
8 shallots, finely chopped
1 bunch coriander, washed and roughly chopped (keep roots for dressing)
1 bunch Holy basil, washed and roughly chopped
1 bunch mint, washed and roughly chopped
For the dressing:
2 long red chillies, seeds removed, roughly chopped
4 cloves garlic, roughly chopped
6 coriander roots, washed
3-4 tablespoons organic honey
4 tablespoons fish sauce
Juice of 2 limes
1 stalk lemongrass, outer stem removed, roughly chopped
3 tablespoons quality olive oil
Instructions
Put a knob of butter into a small fry pan and quickly fry the mushrooms until just cooked. Remove and allow to cool slightly.
Add them and the rest of the ingredients into a large bowl and using your hands, gently toss until all is combined.
Place all the dressing ingredients into a food processor or thermomix and blend until combined.
Adjust to taste if necessary.
Arrange the salad onto a large platter and serve with the dressing on the side in a pretty glass jar.
Delicious and good for you! Enjoy
Until next time…