At Caro & Co, we've long believed that discovery and wonder are to be found in the simplest of places and in the littlest of moments. In conjunction with National Tree Day, we've made a sweet, short video that explains why. We even managed to capture some of Costa Georgiadis'* passionate words of wisdom. He is all kinds of awesome.

Given the above it would appear we're onto something. As mentioned in the video, during the 15 years I've been writing about keeping kids connected to nature, I've asked every child and parent I've met the same question. "Name the one time in your life when you've been filled with a total sense of wonder." 98% of respondents have said it was a moment spent outside. From climbing to the top of a tree for the first time, exploring the bush by themselves, canoeing down a creek, finding a discarded bird's nest, watching the sun set or rise, swimming in the ocean, smelling the earth after a shower of rain, feeling empowered when the training wheels came off their bike, catching their first fish or yabby, building a fort or cubby, through to planting a seedling and watching it grow.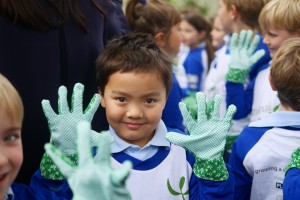 Interestingly, very few speak of traditional milestones such as getting their driver's licence, graduating from school or university, their first job, losing their virginity or becoming a parent. Over and over, people speak of moments of connection with nature. They are always small things, little events; but people are deeply touched by them. No one is yet to mention technology.
I experienced such a moment with Planet Ark by participating in National Tree Day. Sponsored by Toyota Australia, they do a great job of highlighting the need to cherish our environment and spend time outside. What I love most about the initiative is that it's a hands-on event that encourages everyday people to stop and think about plants, connection and our place within the environment. Watching the kids delight in getting dirty, potting up seedlings and planting shrubs was hugely satisfying. So we made the video to celebrate.
How do you help your kids find wonder in the everyday?
*Costa is the host and presenter of the ABC's Gardening Australia programme.
This is a sponsored post.