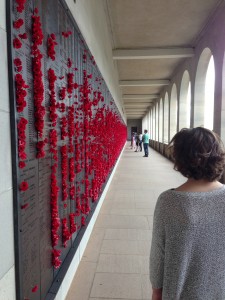 My daughter and I recently visited the Australian War Memorial. To my mind it is one of Australia's leading interpretative museums. Its displays are evocative, thoughtful, educative and engaging. It is a place of tremendous beauty and sadness. We will definitely visit again and again and again.
On November 11, our country (and other commonwealth nations) will stop for two minutes to remember, respect and honour those who have died or suffered in all wars and armed conflicts. November 11 is the chosen date as it marks the anniversary of the armistice which ended the First World War (1914–18).  On this day it is now commonplace to buy and wear a red poppy.
Since 1920, the red poppy has been used as a symbol of commemoration to soldiers who have fallen in times of war. During the First World War, poppies were among the first plants to bloom on the devastated battlefields of northern France and Belgium. According to soldier folklore, the vivid red of the poppy came from the blood of their comrades soaking the ground. Poppies grew in profusion over the earth which had become the grave to thousands of soldiers, making them an appropriate symbol to represent the sacrifice of life and the bloodshed of trench warfare.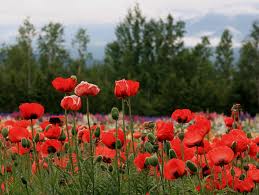 The buying and wearing of a poppy is now a widely accepted symbol of remembrance. Poppies were first sold in Australia in 1921 and continue to be sold by the RSL (Returned Services League) in the lead up to 11th of November each year.  They use the money raised to continue to provide valuable welfare for soldiers and their families.  Usually sold by school children on street corners throughout Australia, they start at just $2. I urge you to buy one and remember…
You can also make donations via the official Poppy Appeal page.
Please share this post if you are able.
Until next time….
This is not a sponsored post.
Poppy image found at www.trekearth.com