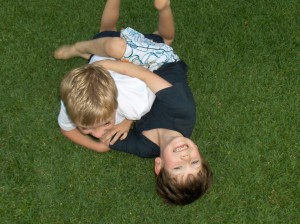 When to tune in to outside and turn off inside? Deakin University in Melbourne are undertaking an important research project looking into active play and screen time behaviours of children aged 2-5 years.  They'd love our help by participating in their online survey. The purpose of this project is to develop an understanding of physical activity and screen time behaviours of parents and their young children, aged between 2 and 5 years. They are also hoping to get a better understanding of what parents think are healthy levels of active play and screen time (e.g. TV, computer, IPAD) in their young children. Ideally, the knowledge gained from this project will help identify some areas to target for future programmes to best support healthy behaviours in young children.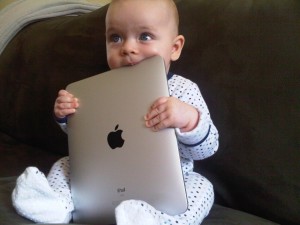 They're asking for help from mums and dads (and step-parents or carers) of 2-5 year old children to aid understanding of these important issues. A link to an online survey is below. Please note all information will remain strictly confidential and will be used for research purposes only. The survey is open to parents/carers from around the world.
It only takes 5 minutes of your time and your assistance will help build healthier kids…
https://www.surveymonkey.com/s/healthykidsdeakinsurvey
If you have any questions you can contact project staff at healthykids@deakin.edu.au or 0392446278.
Thanks for helping. Until next time…
**Image of baby with ipad found on the Wheeler Centre's website ~ a Victorian government initiative championing literacy