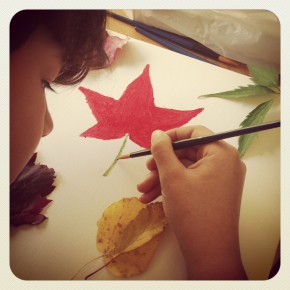 In autumn, Mother Nature puts on a spectacular outdoor display. With crisp, clear days, the sky can appear to be impossibly blue. Deciduous plants prepare for their winter rest, their leaves change colour and then fall from the plant completely. The result? A dazzling display of colour throughout your suburb and nearby botanic gardens, parks and forests.
Children enjoy collecting leaves at this time. With every colour from grubby browns, light and vibrant yellows, dusky purples through to eye-popping scarlets and reds, now is the time to do some colouring in! Many plants will also have a good display of berries, which can look beautiful indoors in a vase. Rosehips are particularly pretty.*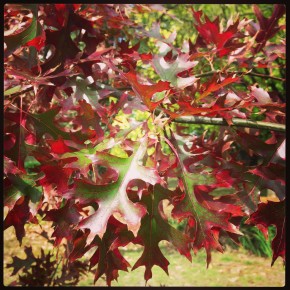 Here's our go-to list of fun, easy and cheap things you can do with your children during autumn.
Go on a leaf hunt, find as many colours as you can. Come back and recreate the colours and shapes on paper to create an autumnal masterpiece…. Visit a loved relative or friend and give them your masterpiece as a gift.
Plant carrots and beetroot seedlings now. They don't need much space.  An old container on a verandah will do. All they need is sunshine, love and water. (It's also the perfect time to plant root veggies and brassicas).
Pumpkins abound during autumn.  Make some soup, stuff one or simply roast it until it's a soft, sweet gooey mass of pumpkin goodness.
Go on a hunt for cicada skins. Make funky brooches with them.
Make some baked or poached pears. Think red wine, cinnamon, clotted cream and open fires. Heaven.
Collect rosehips to make a beautiful indoor display. Consider having a go at making rosehip jelly too.
Rake up some leaves and jump in them. Bury yourself, your child and the family pet in the pile and try and take a photo of the ensuing fun.
Visit a nursery and buy some bulbs. If you plant them now, you'll have a stunning display in spring.
Buy a mushroom kit. Pop it into a dimly lit, dry place and in no time you'll have mushrooms galore. Then try and make the perfect mushroom risotto.
Learn how to knit and make yourself an impossibly long scarf using autumn-themed colours.
Go to a footy match wearing your scarf and scream your lungs out cheering for your favourite team.
Visit a farm and make a bonfire in the paddocks to toast marshmallows or cook damper.
Make a may pole. Dance around it.
Wait for a really foggy morning. Go for a walk in the mist.
Go spider watching. There are some beautiful ones around at the moment.
Autumn can be windy. Make a kite and go fly it!
What would you add to this list?
* Remember to watch for berries inadvertently being popped into the mouth by a little one.  All can be potentially toxic or pose a choking risk.
Until next time…