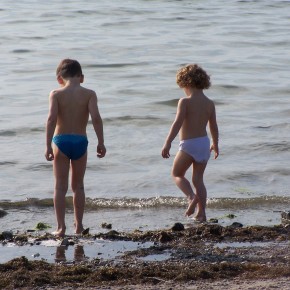 READ ON FOR YOUR CHANCE TO WIN $100 WORTH OF DIVINE SNIFF SOY CANDLES
Nothing is more memorable than a smell. One scent can be unexpected, momentary and fleeting, yet conjure up a childhood summer beside a lake in the mountains. ~ Diane Ackerman
"Autumn's coming, I can smell it,"  my son announced as we walked to school recently.  At the time I was hunched over the nature strip scooping up the gift one of our dogs had deposited on the nature strip, so any smells of autumn were momentarily evading me. "I can too," added Grace. "It smells like leaves and soil and wetness. I think I can even smell the sun. It smells golden." So, as we continued down the path, we set upon a game. It became our mission to identify as many smells as we could. It was a delightful way to amble to school. We had identified approximately 25 scents by the time we reached the school gates.
My son has the most extraordinary nose. So much so, that if he weren't determined to be a architect, I'd suggest he pursue a career as a perfumer. Recently he announced that our laundry "smelled like London." It took me a full day to realise this was because I'd switched washing powders and the new one was identical to one we had used on a brief stay in London two years previously. He told me it was a happy smell. The power of evocation eh? Another time, he told me Kipper (the poo culprit mentioned above) smelled like chocolate. Needless to say we found an empty chocolate wrapper hidden in the depths of the dog basket. He's told me in the past, that I've smelled like love, like flowers, quite disgusting and like the farm. I've countered this by telling him that when he doesn't wash his hair for a few days, he begins to smell like my Grandfather's old corolla or the stinky gorgonzola of which he is so fond. That generally gets him into the shower.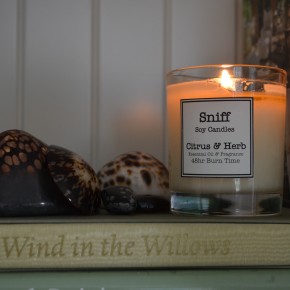 If someone asked me what I simply refuse to do without in my home, it's scented candles. There are always a few burning somewhere. Over the years I think I've tried every brand available. I've now found the one that I will always use. And in bold I will state that I have not been paid for this post. The owners of Sniff Soy Candles are two young Sydney girls with a really clear vision and ideal of what constitutes good scent. The candles burn true and last for hours and hours. I love them to bits. As one of the owners Alison says, "Sniff is a company inspired by memories, pleasure and above all, nature. The scents we have created are based on evocative smells from our childhood, places we have visited, plants that we love ~ anything that causes us to stop and sniff." Her favourite smells are the river bank of the Derwent River where her Grandpa took her fishing, her rosemary and garlic potatoes in the oven, Chanel Eau De Cologne, the smell of the grass at the SCG, Korres Acacia Hair Conditioner and her Jasmine Rice Flower candle.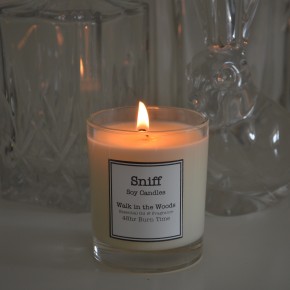 Me? I love the smell of the Australian bush, the air after a shower of rain, Daphne, Annick Goutal's Eau de Charlotte, sage butter and my daughter. I also adore Sniff's Sunday Wash Line, Walk in the Woods and Verbena candles.
Sniff Soy Candles have given me a voucher for $100 to give to one lucky reader*. This will get you around 3 candles. All you need do is leave a comment here on the scent you would ask the girls to turn into a candle. You never know, they may well take up the challenge! The winner will be chosen at random by my son ~ he of the nose.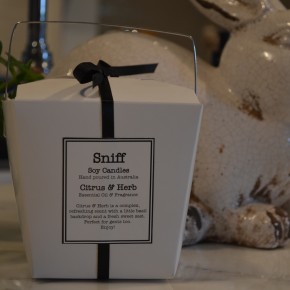 Until next time…
*Offer only open to Australian residents. Competition closes 28 April, 2013.