I am a thief. I snuck down to my neighbour's vegetable patch this afternoon armed with nothing other than a small trowel and stealthy intent. You see, she has the most extraordinary carrot growing powers and I couldn't resist pulling a few. I'll leave it to you to guess which of the carrots featured here belong to her and which to me. Whilst fussing about in her patch I remembered how much my daughter loves growing carrots, so I decided that I'd run a quick competition here at Caro & Co. Simply tell me what your kids would do if presented with these carrots and I'll send one winner a copy of my book "Small Fry Outdoors ~ Inspiration for being outside with kids".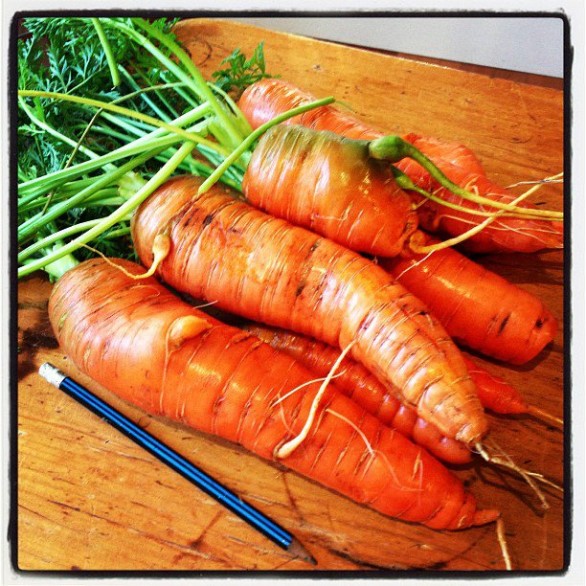 They needn't necessarily suggest some form of cooking or a recipe.  It might be that they'd make carrot stamps, make the lesser known cousin of "Mr Potato Head", photograph them for use making a cover for a quirky note card, add them into a bird feeder, or they might simply create an art masterpiece by replicating the beautiful hues of orange that they see.  It's entirely up to them. Simply leave a comment here telling me what they'd do and any photos you might want to submit.
Competition open internationally. Winning entry will be chosen by my daughter for its creativity on Friday 10 May, so be quick!
Until next time…