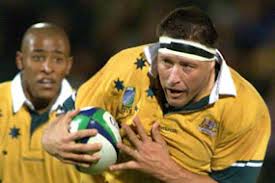 This week Grace interviewed Phil Kearns. Phil is a former Australian rugby union player. As a "Wallaby", he represented Australia 67 times and was captain on 10 occasions. He is currently the CEO of  Centric Wealth. Prior to Centric Wealth, Phil worked at Investec Bank. Whilst better known for his rugby exploits, Phil has an Arts Degree majoring in Economics and Economic History from the University of NSW. A committed philanthropist, Phil is a director of the Children's Cancer Institute Australia and the Humpty Dumpty Foundation. He is the brainchild of the Balmoral Burn.  He is also a regular commentator with FoxSports."
Grace was very keen to interview Phil to see if his success on the sporting field had anything to do with how much time he spent outside as a kid…
When you were little, what did you love to do best of all? Going down to the park next door and playing pretend war games with my mates from the street. The big sticks were rifles, little sticks were pistols and rocks were bombs. It's funny that no one got injured and no-one turned out to be gun toting lunatics. We also spent a LOT of time passing a footy around.
Now you are a grown up, do you think you spend enough time outside? I try to. I get up early every morning and go for a walk with Ted my dog or I go for a swim. But then I'm in an office a lot for my work.  If I get a chance to be outside then off I go to get some sun or at least fresh air. If I didn't work, I'd spend a lot more time outside. That's why I love weekends.
Do you have kids? 4 kids aged 14,13,12,8.
Do they spend lots of time outside? Yes they do. This is because they all play sport (which they love), and on the weekends we ban TV and computers between the hours of 10am and 5pm. They still try to sneak the tele on but it doesn't happen that much. Do they like it? Once they are outside and they have thought up a game then they love it. I think kids have the best imagination. The girls make up better games than the boys but they all love swimming in the pool or at the beach.
Do you think the Wallabies can win the Rugby World Cup in 2015?  I always think the Wallabies are going to win. When you play for a team and give to a team and are part of a great team, you are loyal to that team. Wallabies to win.
What is your favourite thing to eat? Chicken or salads and summer fruits.
What is your favourite colour? Gold.
What is your favourite animal? Ted, my English Staffy.
What do you love best about Australia? Our sunshine, our blue sky and our love of sport and achievement in any field of endeavour. We're a stubborn, determined lot, which means that we often punch above our weight (and succeed!) in lots of areas, particularly science, the arts and sport.
Do you like One Direction? Yes, because it's hard to go in two directions at once!!