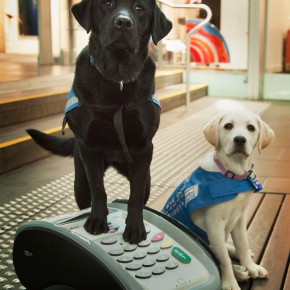 I've long been a supporter of Vision Australia, so I was genuinely excited to see EFTPOS once again launch a really simple, yet effective fundraising campaign for VA.  In the lead up to Christmas, every time someone uses the cheque or savings option whilst shopping, EFTPOS will make a donation to help Vision Australia with the vital work they undertake in making the lives of visually impaired children and adults that little bit easier.  Last year they raised over $1 millon dollars and are hoping to do that again in 2012.  This year's donation will go towards building a new National Seeing Eye Dog Training Centre.
The more times you click on SAV or CHQ, the more money is donated.  Simple huh? And isn't it refreshing to see Australia's largest financial institutions and the two big retailers giving back in this way?  I hope this year they double the amount they donate.
So consider avoiding the CREDIT button (probably always preferable anyway).  In doing so, you'll be helping these wonderful dogs be the best they can be….  Gotta love that.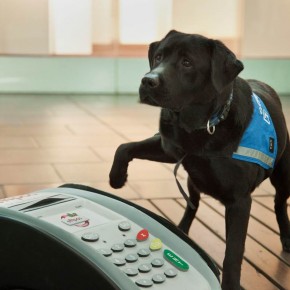 You can find more information on the campaign here.  I'd also love you to consider sharing this post via social media, the more people who know about it, the more money will be donated. Shout it out as much as you can and get shopping – after all, there are only 21 days left until Christmas…
Until next time.