I've been thinking about travel a lot recently.  This is because my 11 year old son has just embarked on a month long trip around the world with his Grandmother. Without me. No Mummy to look out for him.  Waving goodbye at the airport was one of the most unnerving things I've done of late, however, I'll write more about that, particularly building resilience in parents, at another time.
So today, I'm particularly delighted to share a guest post written by Vanessa Carnevale** who has recently returned from a holiday to visit family in Italy with her children.  It's a lovely read and a timely one for me.  Evocative of the slowness of Italian country life, the innate wisdom of Nonnos and Nonnas and the need to let go…
Lessons from Italy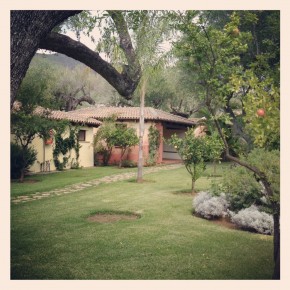 Preparing for our trip to Italy is always a bit hectic, but as I picture the rolling Tuscan hills, my shoulders drop and I instantly feel calmer.  Italy just seems to have this effect on me. It's a place where time doesn't exist. And in that lies the biggest lesson as I compare this life, to that life.
Before I know it, we're over the jet lag and adjusting to the routine and flow of life in a new country. I wake up early to the sound of the roosters. I open the wooden green shutters to see the kids are already in the garden with their nonna, who is showing them how to pick the juiciest grapes.  My daughter is telling her they must be washed before they eat them and Nonna shakes her head.  "Not here you don't!"
My son runs away and hauls himself up on a bale of hay. I cringe and close my eyes, but not all the way because I want to see if he makes it over the next bale without hurting himself. Nonna shouts out to be careful, but Nonno waves his hands, in flamboyant Italian fashion, telling her to leave him alone and that "kids need to be kids."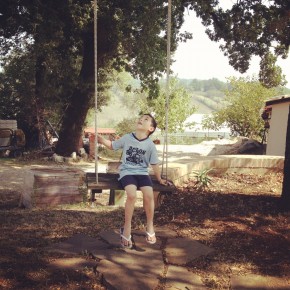 My daughter picks up a basket. It's not just any basket. It was hand woven by her great grandmother. Nonna takes her hand and leads her through the vineyard to the chooks. They're collecting eggs this morning, a routine than can't be broken but is seen as a pleasure rather than a chore.
My son is now on the tractor with his grandfather. I'm tempted to shout out that he needs a hat and sunscreen and I question whether he's had breakfast but then I stop myself. It can wait until I go downstairs to greet them.
There's a sense of no space and no time, just as it should be for kids. Once they tire from this morning's play and adventures it will be time for lunch.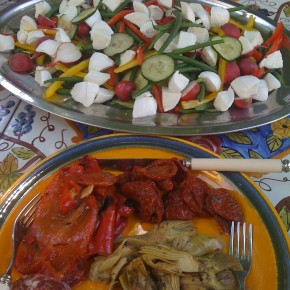 We'll set the table with all the essentials, from bread to wine, and home-grown salad and tomatoes drizzled with home-made olive oil. We'll place my daughter's carefully picked grapes on the table to finish off the meal and then my sister-in-law will bring out the espresso cups.
Much later we'll get up, clear the table and then have a lie-down while the kids will play with their friends from next door. They'll ride bikes, swing on swings, jump on bales of hay and pick plums. They'll duck in between the grape vines, stopping to pick some in between. Language doesn't seem to be a barrier for them, for children all speak the same language.
I notice my kids are more relaxed as they find themselves in a space where they're allowed to be who they really are. Curious, creative and playful little souls, who in nature and amongst nature, are free to experience what the world has to offer. Enjoying sunshine, friends, good company and a sense of just being.
**Vanessa Carnevale is the editor of Mindful Parenting Magazine. This new digital parenting magazine, came about from Vanessa's love of writing, and an interest in living mindfully and embracing life to its fullest. The quarterly magazine is available via iTunes and at www.mindfulparentingmag.com.au