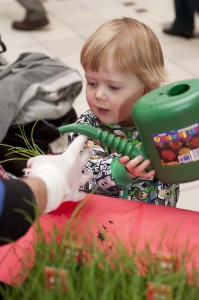 At first glance, the garden in winter can appear, well, boring really.  On the whole there is little colour, many plants and animals have bunkered down and are "over-wintering.  The weather can be unappealing.  My daughter says it looks like the garden has gone to sleep and refers to the bare deciduous trees as "winter skeletons".  It's easy to get her outside when there's snow or frost about because that doesn't happen very often, so is a thrill;  but on a grey, miserable, drizzly day, not so much.
In truth, there are things you can (and should) be doing in the garden during the colder months.  And it is possible to make it fun, exciting even, for children.
For example, it's time to prepare the soil for spring growth and an abundant veggie garden, by mulching.  If you and your child invest in the earth now, it will repay you with enthusiasm as the warmer months approach.  So don some gumboots, get outside and get messy!  Kids love mess and will happily help you throw leaves or other mulch onto the garden (if they can throw themselves in a couple of piles as well).  If your council allows it, consider making a small pile and let the kids light a mini-bonfire, complete with toasted marshmallows.  The smell of burning autumn leaves is almost irresistible.
Find muddy puddles, or just plain old puddles in a gutter and jump in them.  Preferably barefoot.
As you'd know, I admire anyone who encourages kids to get outdoors so for some more ideas, I asked my friends at Vegecation Melbourne (a wonderful initiative by Centro Box Hill) to contribute their list of top tips for enticing kids to get outside and enjoy winter during the school holidays. Here's what they came up with:
Go Potty: Decorate your old plant pots to bring colour to your winter garden. Make sure you wash the pots and leave them to dry-out overnight before painting and sealing with a coat of acrylic paint (inside and out).  Then set to and decorate!  You can use stencils or even an old pair of patterned stockings to create interesting patterns with your paints. Finish it off with a ribbon or colourful string and your garden will be alight with new colour through the winter.
Bird watching: Encourage kids to observe the birds that come into your neighbourhood. They can keep a bird journal complete with their own illustrations and collect fallen feathers, discarded nests and eggs – all of which are found more readily at this time of the year. And in this digital age, let them loose with a camera to  take photos galore.  If you have more than one child encourage them to have a competition to see who can spot the most birds.  If there aren't many birds about simply switch the subject.  For example, they can go on a leaf hunt instead.
Build a Birdhouse: Making your own birdhouse is a perfect rainy afternoon task for the kids and can be done using recycled items found around the home, such as old juice cartons or ice cream tubs. Have the kids camouflage it using sticks and leaves to make it look part of the natural environment.  Ensure that any birds who might visit can't get tangled or injured in the materials you select.
Build a scarecrow: Your scarecrow needn't be enormous or overly complicated.  Simply grab two large sticks and tie together to make a cross.  Attach an old shirt, stuff with an old pillow and tie to secure with twine.  Pop a basketball on the top as a head, paint a face and put a funky hat on top.  Voila!  Instant scarecrow.  We can't guarantee he'll be good at his job but he'll look the part.
Make mud pies: If you add a bit of flour into the mix, you can try moulding them into different shapes and baking them in the oven.
This school holidays, Vegecation at Centro Box Hill (Melbourne) will opens the gates to a Vegecation Winter Wonderland.  If you're in Melbourne, I encourage you to join them as they explore the fun to be had in your backyard during the colder months.  Every participant will receive their own winter seedling to grow in your back yard, along with a Vegecation apron.  Here are all the details you need:
Where: Centro Box Hill North Precinct (opposite the food court)
When:  9 – 13 July 2012
What time: 11am to 2pm each day, interactive play times: 11.30am and 1pm
Who: Aimed at children aged six – 15 and their families
Price: FREE