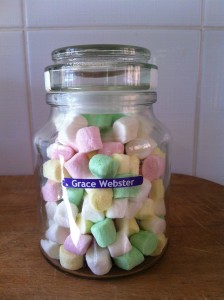 When I was young, I was obliged to take craft classes at school.  I excelled in two things only.  Macrame (I once made a very fetching hanging pot holder) and weaving, using willow twigs, twisted this way and that until they were transformed into a perfect somewhat resembled a basket.  However, every other aspect of the classes eluded me.  I could never get the hang of 'casting on and off', so a career in knitting was out.  And I continue to tip my hat to anyone who can take a lump of clay and turn it into anything other than an amorphous mass of dried silt.  Although, one year I (Grandma) got an A+ for making a beautiful little upside-down doll.  I (She) spent hours hand-sewing her dress and attaching pretty ribbons and button eyes.  It was a triumph.
Because of this, I am still left clueless when faced with stitching a hem or sewing a button that has fallen from a shirt.  Imagine the horror when my children started school and everything had to be labelled. "Everything must be clearly labelled with your daughter's name.  This includes full uniform, underpants, socks, shoes, lunchbox, drink bottle, hat, school bag, pencil case & pencils, rulers and every other item that she may need at school."  Outsourcing quickly became my friend.  There are a number of companies that will do this for you and at quite reasonable prices.  Over the ensuing years, I've tried them all with varying degrees of success.
When we relocated to our farm recently, I was faced with having to label a whole new set of school paraphernalia.  Sigh.  However, serendipity intervened, as Bright Star Kids had contacted me just a week prior asking if I'd be interested in giving their labels* a test run.  Well, heck yes!   My daughter Grace and I have now labelled everything.  She has also chosen to label the dog, her quad bike, the garden tags in the veggie patch and our letterbox at the end of the road. She also snuck into the pantry and labelled all the jars containing lunch-box treats.  Clever girl; cranky brother.
So how would I rate Bright Star Kids?  After 6 weeks, the stickers are still sticking, despite many of the items to which they are adhered having gone through the dishwasher each day.  Any parent will know that this is the true test of a sticker's quality. Interestingly, Grace is also doing a roaring trade at school swapping some of her funky personalised stickers with schoolmates – sticker swapping is all the rage apparently.  It was "Love Is…" swap-cards in my day … but I digress.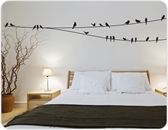 And they don't just supply labels.  How beautiful is this wall decal?
So, if like me, you are craft-challenged, think of Bright Star Kids next time you're facing a labelling crisis.  I'm sure you won't be disappointed.  Oh, and the gang at Bright Star Kids have offered readers of this blog the chance to win one of two Preschool and Daycare Label Kits valued at $34.95 each.  For that you'll receive 160 assorted labels with the name and design of your choice.  Simply leave a comment here letting me know if you'd like one.  Grace will choose two winners at random.  Be quick!
Until next time….
*Bright Star supplied us with their standard back-to-school sticker pack for review.