Jump to recipe
The weather in Sydney today is wet and wild.  Over 110mm of rain has fallen in just 24 hours.  Listening to it fall on our tin roof always sends me to the kitchen.  There's something about cooking whilst listening to the constant thrum of rain that just feels right.  But what to cook?  We've been eating our pantry down in anticipation of our move to the farm in a couple of weeks.  You can read about that exciting news here and stay in contact by checking out Beetroot and Blossoms.
Meantime I remembered the 1kg of Patrice Newell's divine locally grown biodynamic garlic sitting patiently, waiting for me, in a dry, dark corner of the pantry.  Perfect!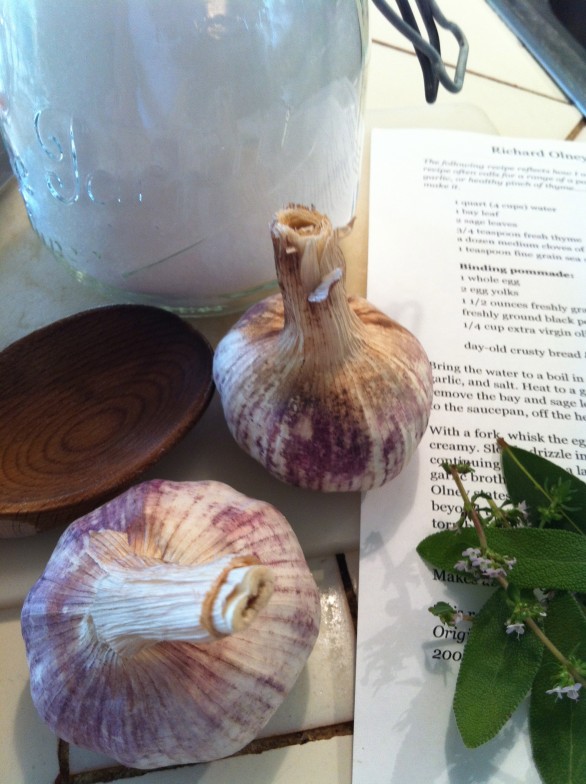 Garlic can be a strong taste for young palates, particularly if you're using the horrid, imported garlic sold (sadly) in most supermarkets and green grocers. Imported garlic is generally old and can be quite bitter.  Yukky stuff.  So I encourage you to support local farmers by buying fresh garlic when seasonally available (summer months through to early autumn).  Better still, if you have a little space in the garden, try growing it yourself.  Fresh garlic is, by its very nature, juicier and sweeter.  It also stores very well.
My 9 year old daughter Grace and I decided on garlic soup.  To her mind, drinking this rich, tasty broth will ensure no visits by vampires and will also stave off colds and flu for some time to come.  I like her logic. Any pungency is lost (by softly poaching the garlic) and replaced instead with a delicious sweet and nutty flavour.  We guarantee it will tempt the fussiest of eaters.
We used a fabulous (and easy) recipe by Heidi Swanson over at 101 Cookbooks, who in turn had adapted it from an original recipe in Richard Olney's world-renowned  The French Menu Cookbook.  Many thanks and a big *hat tip* to Heidi.  Grace and I made a couple of tiny changes too.  Here's how we did it.
Richard Olney's Garlic Soup Recipe
Serving Size
Makes 4 cups
Notes
We doubled quantities as we are feeding 10 people.

Ingredients
4 cups of water
1 bay leaf
2 sage leaves
3/4 teaspoon fresh thyme
12 medium cloves fresh garlic, smash-peeled and roughly chopped
1tsp sea salt
Binding pommade
1 whole egg
2 egg yolks
1 and a half ounces freshly grated parmesan cheese
freshly ground black pepper
1/4 cup EVOO
Half a loaf of day-old crusty bread and a little more olive oil to drizzle. We garnished our version with a couple of sprigs of flowering thyme and a baby nasturtium leaf.
Instructions
Bring the water to a boil in a medium saucepan and add the bay leaf, sage, thyme, garlic and salt.
Reduce heat and simmer for 40 minutes.
Strain into a bowl, remove the bay and sage leaves from the strainer and return the broth and garlic back to the saucepan, off the heat.
Taste and add more salt if needed.
With a fork, whisk the egg, egg yolks, cheese and pepper together in a bowl until creamy.
Slowly drizzle in the olive oil, beating all the time, then add (slowly, slowly), continuing to whisk, a large ladleful of the broth.
Stir the contents of the bowl into the garlic broth and whisk it continuously over low-medium heat until it thickens slightly. Olney states, "just long enough to no longer be water." Heidi on the other hand "usually lets it go a wee-bit beyond that – until it is the consistency of half and half (pouring) cream". I'm with Heidi.
Place a handful of torn bread chunks into the bottom of 4 soup bowls and pour the soup over the bread.
Finish with a drizzle of olive oil and serve immediately.