Jump to recipe
With a glut of green tomatoes at our farm and the first frost threatening to turn them all to slush, we recently harvested the last of our heirloom tomatoes.  As is the way when you have a productive veggie patch and no real skill on managing your harvests, we got buckets and buckets of them and have been forced to  love everything green tomato.  After giving away as many as we could, my 8yr old daughter and I devised this recipe for an easy green tomato chutney/relish recipe.  With all the chopping and measuring, children will love helping out with this recipe and can assist with every aspect of it.  This is, of course, dependent on their age and ability – which you are best placed to judge.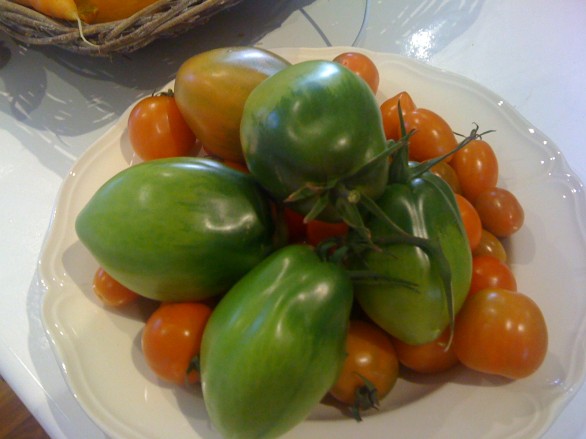 Green Tomato Relish
Ingredients
500g green tomatoes roughly diced
500g mix of red (Spanish) and brown onions roughly diced
250g golden sultanas or raisins
250g brown sugar
500ml malt vinegar
2 tbsp salt
1 tsp ras-el-hanout
1 tsp ground cardamom
1 tsp chilli flakes (more if you like zing – I added more during the cooking process)
1 tsp ground cinnamon
1 tsp ground ginger
Instructions
Put all the ingredients into a large heavy-based saucepan.
Bring to a hard boil.
Then reduce heat and simmer for at least an hour (probably longer, so don't panic) or until everything is softened and slightly caramelized.
Spoon into sterilized jars.
Have your children decorate the jars with funky ribbons and handmade labels.
Enjoy – but don't forget to save some tomatoes for frying. Delicious.  I'm now wondering whether one could make a green tomato bruschetta – stay tuned! 😉