Jump to recipe
Recently I had the absolute pleasure of visiting Bhavana Organic Farm & Cooking School.  Nestled in the hinterland of the Byron Shire in northern NSW, it is so much more than just a cooking school.  The place kind of hugs you when you arrive and provides a day of inspiration, inclusion and love.  I know that sounds corny but it is so very true.  The owners gently show people how to foster a simple and authentic understanding of food and its significance to wellbeing and health. As they say, "Whole foods provide not only our living energy, but are the healing source for so many facets of our life. We believe there is a natural pharmacy in every nurtured garden, and a little knowledge and willingness to learn, provide the ingredients for creating physical health, emotional wellbeing and longevity of life."  Their vegetable patch is stuffed to overflowing with stunning seasonal produce and their Mt Isa hens are much more than just chooks ~ they are happy, cheeky creatures who rule the joint.  The setting alone is enough to make you feel restored and meditative.  It is a special place.
During the day  we learned how to prepare some dishes that were not only delicious but genuinely good for you, particularly your gut. The chef, who I like to call "Official Head of Inspiration", Jo Rushton is a delight and I can't wait for the Bhavana cookbook which is sure to come.
I really encourage you to check out their website, but meantime I thought I'd share one of Jo's salads. Its main ingredient is flat-leaf parsley. Whilst very simple, it packs a punch as it is full of antioxidants, a natural diuretic, assists with digestion and is also said to have antibacterial properties.  Personally I've always loved the stuff and add it to almost everything.  Jo's salad relies on nothing more than parsley (6 cups chopped), capers (3tbs), shallots (8 thinly sliced), lemon juice (4tbs) and olive oil (6tbs).  I haven't been able to resist adding a few more things but I also love the simplicity of Jo's version.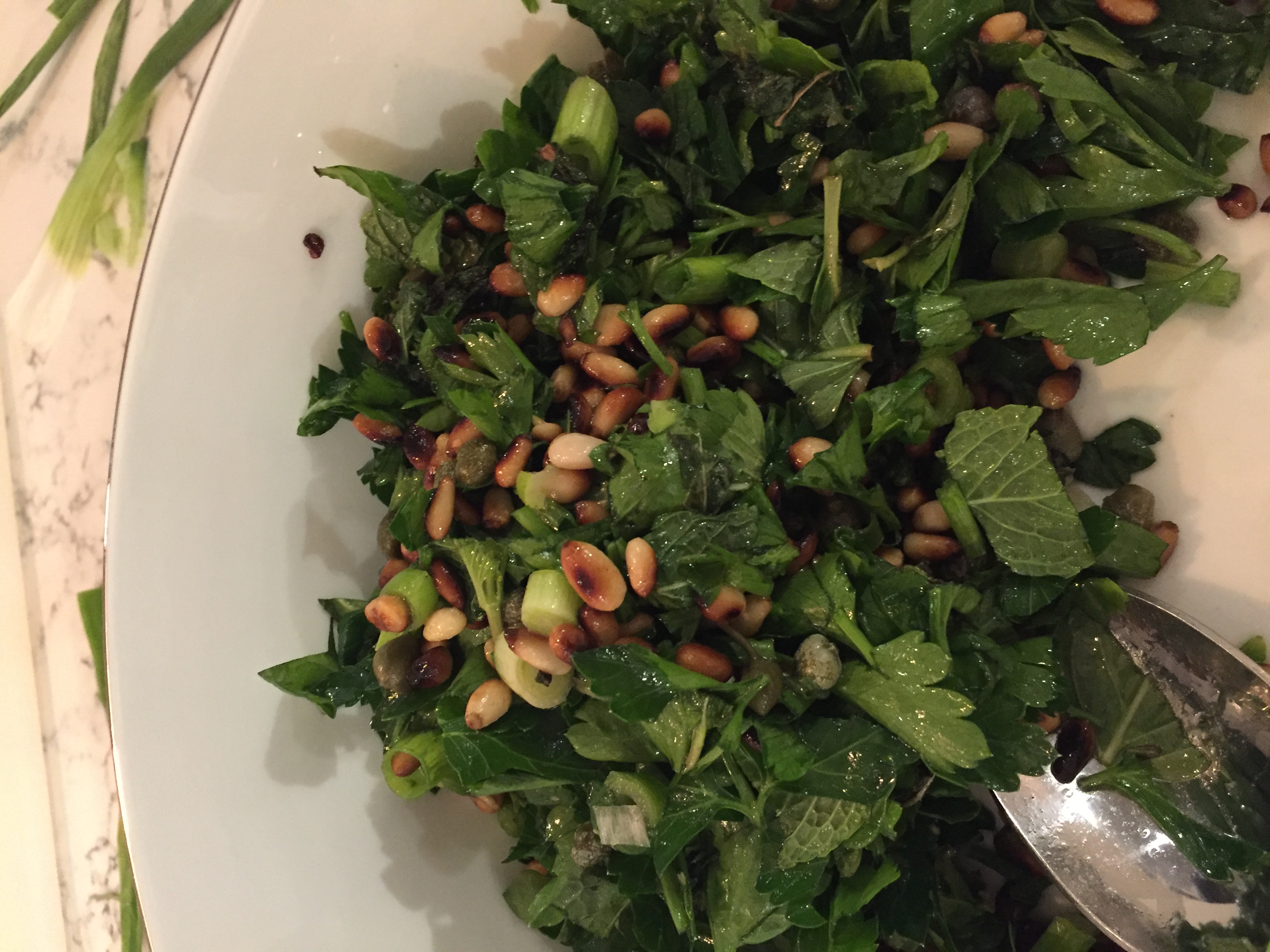 Ingredients
2-3 large bunches of flat-leaf parsley, washed and roughly chopped
1 small bunch mint, roughly chopped (optional)
Sprinkle chilli flakes (optional)
Large handful of capers (rinsed if in salt)
8 shallots, finely sliced
1-2 stalks of celery, finely sliced
Large handful of toasted pine nuts
3-4 tbs lemon juice
Good slug of olive oil
S&P to taste
Instructions
Combine all in a salad bowl and toss by hand to ensure everything is coated in the olive oil. Adjust to taste if necessary. If you feel it is a little too tart, add a small sprinkle of raw sugar and toss again to combine. Serve with anything you wish. It goes perfectly with lamb, fish and chicken.
Here are some more images from the day.
What's your favourite salad?  Wanna share?
Until next time…
This is not a sponsored post.