Are you looking for some quirky Christmas gifts?  Then read on.  I present to you, Caro's inaugural Christmas gift guide. Catering to the person looking to buy something a bit different for family and friends… Something that will make them snort with laughter, wince with derision or head immediately to Ikea…
Given the number of barbecues that will be had between now and the first week of February I was on the lookout for a pair of BBQ tongs or some such thing.  But no, this is a million times better. Until now, I didn't realise there was such a thing as BBQ music.  This has enlightened me.
I feel I must suggest that you buy my latest book.  If you know of someone who needs to return a little wonder to their child's everyday, then this is for you and them….
Looking for a gift for the pet lover in your family?  This is beyond daft but so hilarious, I'm thinking of buying one for every member of my family and not just the canine variety…
I was never a one for hanging pots until I saw this one. I'm now a convert.
This is quite possibly the most beautiful wall decal for a child I've seen in a long time.
My mate Mrs Woog, of Woogsworld is one of the funniest (and loveliest) Australian bloggers writing today.  Her latest book, Primary School Confidential confirms that.  Perfect for reading poolside during the holidays.  You should also check out her gift guide…
Looking for something to keep the kids outside and out of your hair for just a bit longer each night (aren't we all)? This might help…
If you have a foodie in the family who's looking to cook what they grow, this is perfect…
If you're looking for a gift for a tween/teen girl, you'll make a hero of yourself if you buy anything, I repeat anything from Dotti.
Despite once giving myself a black eye playing this game, I'd still recommend buying Totem Tennis if you're looking for a great outdoor game for your kids.
Tween/Teen boys can be totally impossible to buy for.  My 15 year old reliably informs me that anything from factorie would be gratefully received.
This book sounds absolutely intriguing.  It's the story of the powerhouse that was the Elizabeth Gould, the wife of our most famous ornithologist, John Gould.
 If you have more money than sense, you could consider this…
Whilst I don't have an artistic bone in my body, I'd still like one of these.  The bonus is you also get to visit Ikea.
On a windy day there really is nothing better than flying a kite…
This game is revolutionising backyard and beach cricket. It's a must if there are any cricket tragics in your family.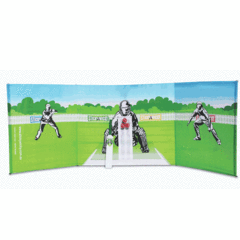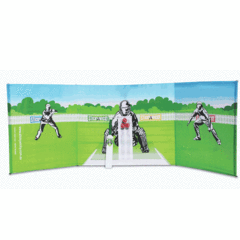 And finally, Christmas holidays just wouldn't be right without a game of Uno…
What's your go-to gift for those impossible to buy for?
Until next time…