Jump to recipe
Last week I ordered English spinach as a part of my weekly online shop.  I recognise that there is nothing at all interesting about that.  However, I thought I'd ordered 400g.  Instead I ended up with 4 kilograms.  Let me give you the tip, despite spinach reducing tenfold when cooked, that's a lot of spinach.  It was delivered in a large kitchen garbage bag.  I'm sure it went a long way to confirming my husband's suspicion that, whilst I might be a good cook, I am quite daft. Secretly I fear he might be right ~ that or I need new glasses.
I've tried to be fairly creative in attempting to use it up.  Spinach soup, spinach dip, pasta with the green stuff, chicken fillets stuffed with spinach and pine nuts, sautéed spinach and mushrooms, kale and spinach salad, etc, etc, etc, ad nauseum. Heck, I even added it to the dogs' meals each night.  Finally, last night I made spanakopita which got rid of the last of it.  Hallelujah!
A few of you have asked for my recipe for the frittata I cooked over the weekend, featuring, you guessed it spinach.  It was totally delicious and simple, so here it is… but please promise me that when you buy the spinach for this recipe, you won't order it online lest you end up with 4kgs of the stuff…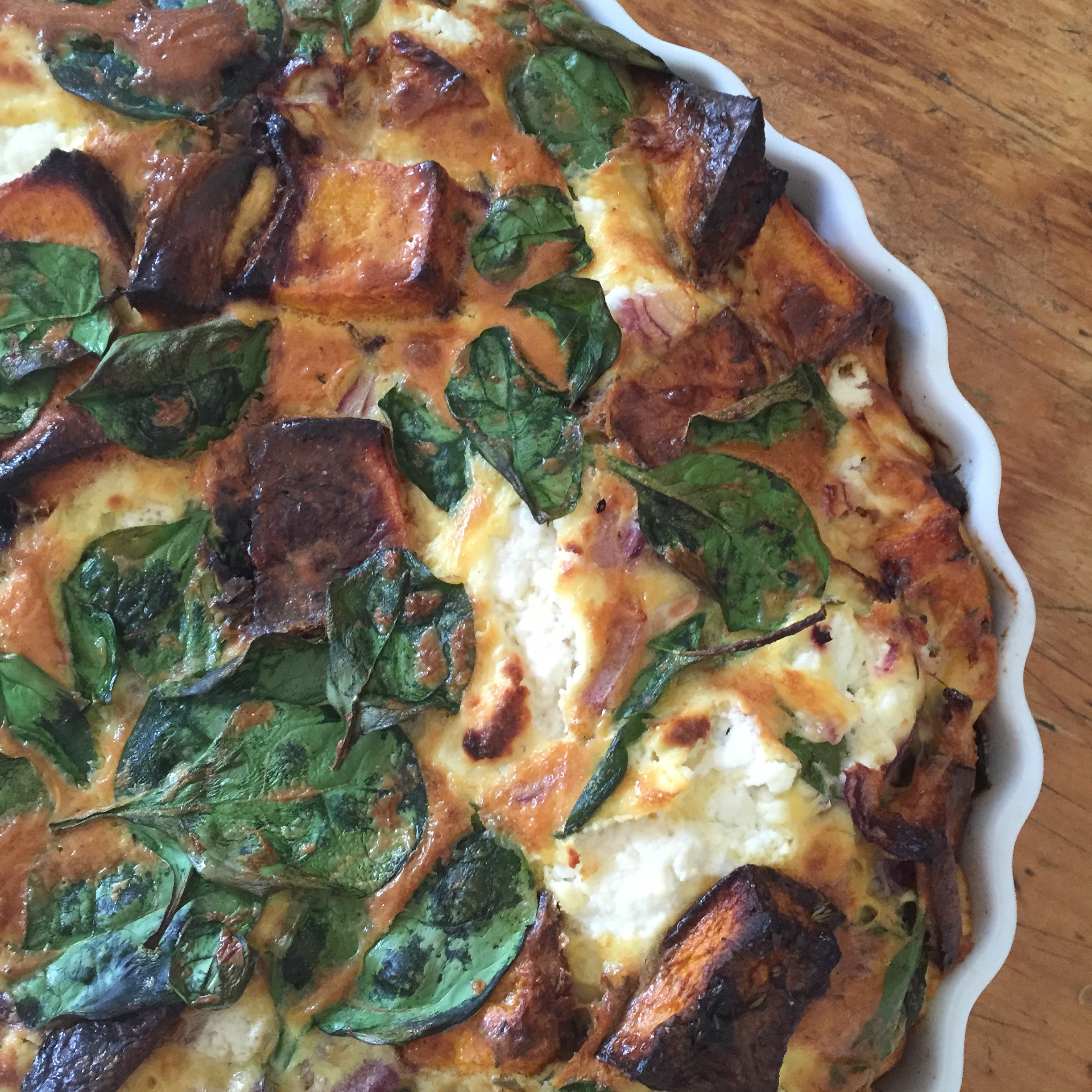 Ingredients
Two thirds of a butternut pumpkin skin removed, chopped into bite sized pieces
8 large handfuls of English spinach
half Spanish (Red) onion finely chopped
Large handful of red grape tomatoes chopped in half vertically
1 tsp finely grated lemon rind (optional)
Sprig of thyme
12 eggs
200mls thickened cream
320g soft goats cheese
olive oil
salt and pepper
Instructions
Preheat your oven to 180c.
Place the pumpkin onto a flat baking tray, drizzle with oil, thyme leaves, salt and pepper and roast until pumpkin is cooked and beginning to caramelise around the edges (about 20 minutes). Remove from oven and allow to cool slightly.
Meantime, in a mixing bowl, whisk the eggs, cream and a good crack of black pepper and salt until well combined. Set aside.
Lightly grease a 30cm quiche dish with the olive oil.
Layer the bottom of the dish with some spinach.
Now add the pumpkin, placing it evenly around the dish.
Add some more spinach and the onion.
Add the goat's cheese and tomatoes.
Add some more spinach (sigh!).
Now gently pour the egg and cream mix over the lot. Use your hand to spread the ingredients around the dish so they are distributed evenly and the egg mix is also well distributed.
One more crack of pepper and salt and now pop the dish into the oven for around 20 minutes or so, or until the top is golden and the egg set.
Serve immediately with a crunchy green salad and a glass of crisp Pinot Grigio.
Notice how many times I've used the word spinach in this post?  Hopefully it gives you an indication of how much of the stuff I've had to contend with….
Tell me, what's your favourite spinach recipe and should I risk ordering some next week?
Until next time….