I was contacted a while back by the team at MILO who wanted to share some research they have undertaken.  It scared the tripe out of me.  I knew kids weren't getting enough exercise, but the research results are frightening.  Amongst other things, it shows that, as I guessed, it's not the kids, but us that need to take the lead on getting them active.  Kids will willingly do so if we just take (and make) the time to show them how and then give them the freedom and opportunity to do so…
The research found that the majority of Australian children (78%) are getting less than the recommended daily amount of exercise, with one in four (28%) even getting less than half that.  Why?  I'd wager that we parents are over structuring our children's time with formal learning, structured play and also allowing them too much time on devices.  I know that I've been guilty of using the TV or a device as a babysitter in the past because I've been "too busy" to kick the kids outside.  Busy?  Nah.  It was my laziness that contributed to my children's inactivity.
It seems we're worried about it, but doing little to correct it. The research found that 61% of parents expressed concern that their children weren't getting enough activity. This figure increased dramatically to 93% among parents of children who get less than half the daily physical activity recommendations.
Australia's Physical Activity & Sedentary Behaviour Guidelines for Children, developed by the Department of Health, recommends children between 5 and 12 participate in at least 60 minutes of physical activity every day.
To encourage kids to get active, MILO has launched the MILO Champions Band , a health, fitness and activity tracker designed for kids (it's like a kids version of a Fit Bit). The band syncs to an app where parents (and kids) can check their progress and in turn help monitor the balance between energy input and output.
The MILO Champions app is super easy-to use and you might find your kids become quite addicted to reaching their activity and fitness goals.  My kids loved it although the bands were a snug fit on my teenage children, so are probably best suited to kids under 12 years of age.  I gave ours to a friend's 10 year old son and I'm told he hasn't been inside since!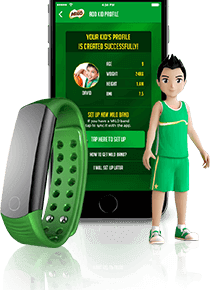 The entire MILO Champions pack, which includes the MILO Champions Band and a 450g can of MILO, is available at Woolworths and online at milo.com.au while stocks last.
How do you encourage your kids to stay active?
Until next time…
This is not a sponsored post, although MILO did give me a couple of the bands for my kids to test drive.