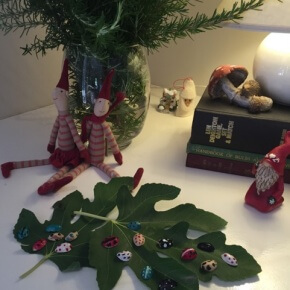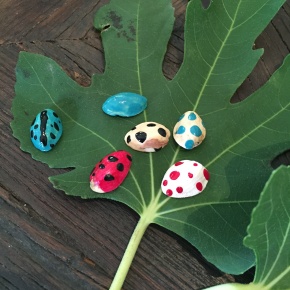 Given I love anything that fosters creativity and imagination in children, I couldn't resist participating in a great initiative (and competition) designed to get kids creative both in the kitchen and outdoors.
The team at Wonderful Pistachios are encouraging families to come up with the quirkiest, most creative use of an empty pistachio shell. Such fun huh?! All you need do is grab a handful of empty shells and set to decorating.  Although the nuts are so delicious, I defy you to not to eat huge handfuls and end up with a mountain of shells (any leftovers make great compost by the way).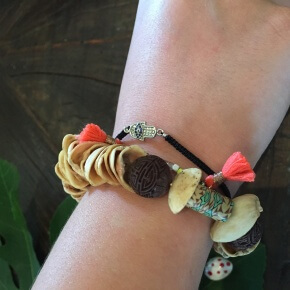 So, simply create, record (photo or video) your own pistachio artwork and share it on the Wonderful Pistachios AU Facebook page (and your own social media networks) with the hashtag #CreativelyGetCrackin to be in the chance of winning a week's farm stay for the family and a year's supply of yummy pistachios. Total prizes on offer (including some super runner-up prizes) are valued at over $7000.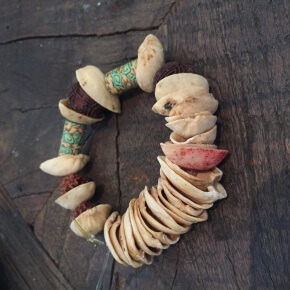 Obviously they'd love everyone to go berserk buying their nuts, but it's more than that.  It's refreshing to come across a company which is genuinely trying to inspire creativity.  I should point out that the nuts are from the U.S., but this time around I'm overlooking food miles as I'm yet to find better pistachios grown and readily supplied in Australia.
Here's what we came up with.  We spent about an hour creating pistachio beetles, bracelets and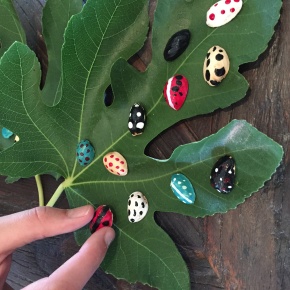 necklaces along with a wind chime. We are also thinking of making our own version of "The Hungry Caterpillar" tomorrow.
Before you start your craft activity, try and have to hand:
A huge packet of Wonderful Pistachios (well, der)
a variety of nail polishes,
non-toxic paint (esp.  glitter version)
craft glue
some fishing wire,
a drill with a teeny bit,
beads and other decorative items that can be threaded
In the kitchen, pistachios (raw or roasted) can be added to salads, sprinkled over roasted vegetables, make a beautiful ice-cream, can be added to pasta dishes, and many Middle Eastern dishes. Substitute pistachios for pine-nuts for an interesting take on pesto. Use them roughly chopped over desserts such as trifles, cheesecakes or cakes.
Here are few things you might not know about Pistachios. They are an excellent source of Vitamin E, Vitamin B6, riboflavin, niacin, thiamine, folate, manganese, calcium, iron, magnesium, zinc, and potassium. They are also jam-packed with copper which assists with the production of healthy red blood cells. That's a tiny powerhouse of a nut!
So get cracking and prove to me that you're a creative lot… I know you are but I want to see it.  Visit the Wonderful Pistachios Facebook page for more details (including T&Cs) on the competition. THIS COMP. IS NOW CLOSED.
This post is brought to you by Caro & Co in partnership with Wonderful Pistachios