Jump to recipe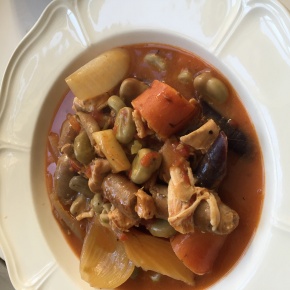 Looking for something that is filling and warming when it's as wintry and cold as a witch's whatnot outside? Then this peasant soup is for you. It's also a very easy meal for your children to make. Serve with some crusty bread and a sprinkle of parsley. You could also top with some Parmesan or Tasty cheese ~ whichever you prefer.
Ingredients
Serves 8-10
You will need:
2 500g tins Campbell's Country Ladle Creamy Chicken Soup
1 tin of diced tomatoes
1 Massells Vegetable stock cube
500ml quality chicken stock
250ml cold water
2 small sweet potatoes, washed and roughly chopped
4 Jerusalem artichokes, roughly peeled and cut into wedges
1 x large onion, peeled and cut into small wedges
4-6 small heirloom carrots (different colours), washed and roughly chopped
2 small white turnips or swede, washed and roughly quartered
2 small red beetroot, washed and roughly quartered
2 small golden beetroot, washed and roughly quartered
1 500g bag frozen broad beans
2 large chicken thigh fillets (skin on, boneless) roughly chopped
10 thin beef sausages
Tagliatelle or crusty bread to serve.
Instructions
Put all your ingredients except the sausages into a large, deep pot. The fluid should come up about ¾ way of the pot. If not, add a little more water. Bring to the boil and then reduce to a low simmer.
Meanwhile pan-fry your sausages. Once cooked, chop roughly and add to the soup. Now let the soup slowly simmer for around at least an hour, preferably two.
The soup is ready when the vegetables are super tender. Serve immediately.
This is a very flexible recipe, designed to take advantage of the vegetables you have sitting in the bottom of your fridge, at the back of your freezer or lurking somewhere in your pantry. In other words, use up what you have ~ tinned, frozen or fresh. Although in winter, root vegetables are at their prime and give the soup a deliciously earthy taste and texture. I never peel mine as it helps maintain the integrity of the vegetable as I simmer the soup for so long.
This soup can also be vitamised and used as a beautifully healthy and flavourful baby food or as a pasta sauce base.