Jump to recipe
Today autumn managed to show herself. She's been hiding under a shroud of humidity for three weeks and I haven't liked it, not one little bit. Autumn in New South Wales should be a time of impossibly blue skies, crisp evenings, foggy mornings and a fantastic array of turning leaves of every hue showing off throughout suburban gardens. At our farm, the snakes are getting sleepy and it's time to ensure that the woodpile is high, the cellar is well-stocked and the rake is in good working order. So in celebration of my favourite season finally arriving, here's a recipe, some plants to play with and a rocking good song. Now's the time to get the kid into the kitchen and garden.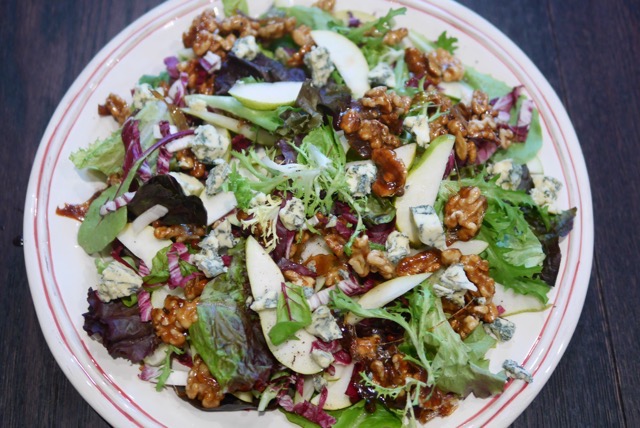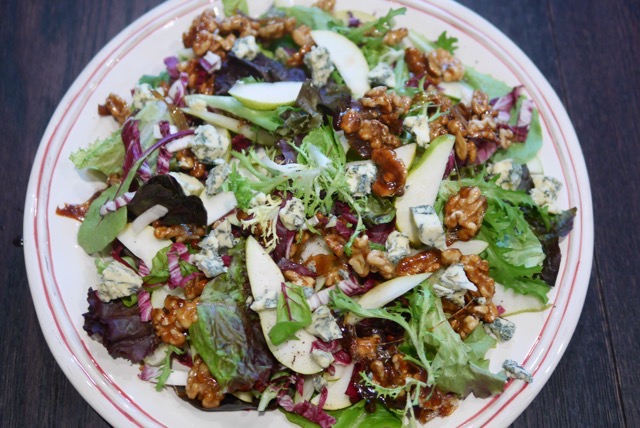 Bittergreens, Pear, Stilton, caramelised Walnut salad
Ingredients
3 cups of bitter greens (eg. radicchio, frisee, endive, dandelion, etc ~ a good Mesclun will also do)
1 cup fresh walnuts
A good slug of maple syrup
2-3 firm pears, cored and sliced
1-2 teaspoon pink peppercorns
A handful stinky blue (Stilton is ideal), crumbled
1/4 teaspoon lemon and orange juice
olive oil
sea salt & cracked black pepper
Instructions
Place the walnuts and a large pinch of sea-salt into a non-stick fry pan and drizzle well with the maple syrup.
Heat until syrup begins to caramelise (about 2-3 minutes), stirring the walnuts whilst you go.
Once coated and caramelised, take off heat and allow to cool, keeping the walnuts from touching each other, so they don't clump together.
Arrange all your other ingredients onto a flat salad plate. Toss gently with your hands. Sprinkle the walnuts on top.
Drizzle with a mix of the orange & lemon juice, some quality olive oil and some salt and pepper.
I served with a pan-fried scotch fillet and a fine pinot noir although it is also a beautiful stand-alone entree on a lovely autumn day. (That's Starter or Appetiser for the Americans amongst us).
And so to flowers.  If you wander your suburbs right now, you'll see Dahlias, Chrysanthemums and Salvias doing their thing. Camellias are also preparing for their winter display and may be spot flowering. In the veggie patch, your Echinacea should be flowering their pretty little heads off. Also known as Cone Flowers, they are well known for their germ fighting properties and will attract bees to the garden.
Hibiscus are at their best now. They look fragile but are as tough as old boots. Sadly they make a totally useless cut flower. You may also see Roses having a final flush before the cold months set in. Tibouchinas with their eye-popping purple flowers are also putting on a display. Personally I can't stand these small garden trees but guarantee your teenage daughter will; purple generally being a favourite of most young girls. Why not encourage your children to hunt for these flowers, pick some for a pretty arrangement or have a go at pressing them.  Similarly, encourage them to pick some autumn leaves and once at home, try leaf stencilling, or drawing them with the aim of matching exactly the colours they see on the real thing. For those of you who celebrate Easter, now's also the perfect time to have a go at blowing and decorating eggs.
And finally to a song. Inexplicably, my daughter has recently started playing double bass. So in honour of her enthusiasm, here's a cute little song just for her.
Can't you just imagine listening to this, curled up on the couch, fire blazing with a good glass of Pinot in one hand and a book in the other?
Until next time.
*Lettuces, pears and walnuts are all in season now.