A few things you might not know about basil including a recipe for my basil insect spray.
Basil is the common name for the culinary herb Ocimum basilicum of the family Lamiaceae. It is sometimes referred to as Saint Joseph's Wort. Mints are also in the Lamiaceae family.
I love basil. It's one of my go-to herbs. Our mild climate in Sydney ensures that we always have some in the veggie patch, but it's perfectly happy indoors in a pot if space is at a premium or your weather is harsh. It is incredibly easy to grow. Use seedlings rather than seeds if you decide to have a go at growing it. All it needs is regular sunshine, water and love.
If you plant basil beside tomatoes it will send White Fly packing.  And of course basil and tomatoes are beautiful culinary companions.
I use basil almost every day as it complements most meats and fish, is a great addition to salads, casseroles (dried and fresh) and forms the base of most pestos. Try using it to make panzanella ~ a beautiful tomato and bread salad.
There are hundreds of varieties of basil. Some of my favourites include: Sweet, Holy (or Thai), Red, Lemon, Greek, Basilico and Bush basil. I recently found a great website dedicated to all things basil which you can find here.
But did you know that basil can also help deter insects and calm bites and stings? It purportedly also has antibiotic and anti-inflammatory properties. It will ease a cold, calm the tummy and is even said to aid eyesight.
 Caro's most excellent Basil mozzie deterrent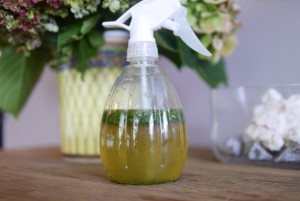 Roughly chop a small handful of basil leaves. Now crush in a mortar and pestle with a little oil until you've formed a green gooey paste. Alternatively, briefly blitz it in your weapon of choice. Put the mix into a spray bottle with some hot water. Once the water has cooled,  you can use it on yourself or spritz* around the places you will be sitting.  It smells gorgeous and will keep insects at bay. It's said that actually eating basil will also deter insects. The spray will keep for about a week in the fridge, however, I tend to make small amounts to ensure it is fresh and pungent.
And of course there are two rather famous Basils in contemporary culture.  Both of whom I adore.
Who or what is your favourite basil?
Until next time….
* Avoid clothing or furniture as the mixture might stain.