Jump to recipe
My daughter Grace (11) is a baker. This makes me so very happy as I'm only capable of turning out cakes that resemble large flat river pebbles.
Recently she's been working on perfecting Pavlova and after much cajoling by her mother, she's agreed to share her recipe here on Caro & Co.  If you have a budding baker in the kitchen, encourage them to have a go at this dish.  It's really very easy. Quintessentially Australian (although New Zealanders also fiercely claim it as their own), Pavlova is the perfect dessert for Australia Day.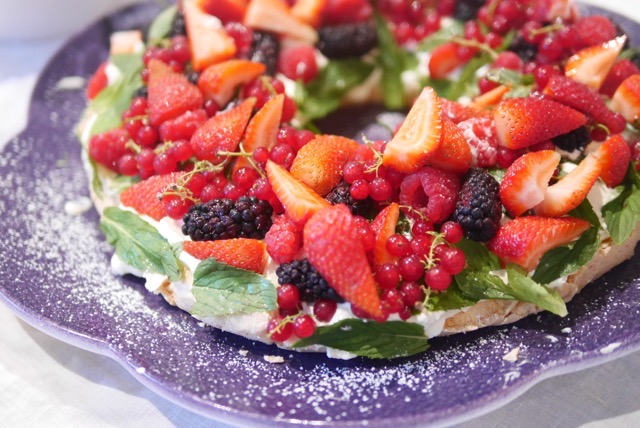 Notes
Mum and I have decorated pavlovas using other toppings like:
Mangoes, blueberries and passionfruit
Blackberries, pomegranate arils, banana and basil
Banana and gooseberries
Blueberries, lingonberries and blackberries

Ingredients
6 large fresh free-range eggs
1 cup of caster sugar
1 tsp white vinegar
¼ tsp vanilla extract 500mls thickened cream
1 punnet strawberries, halved or quartered
1 punnet blueberries or blackberries
1 punnet raspberries
1 handful of red currants
1 handful of cherries
handful of mint leaves
Instructions
Preheat your oven to 140 degrees celsius, conventional, not fan-forced. Line a large round pizza tray (or any shallow oven tray will do) with baking paper and spray very lightly with olive oil.
Separate the egg yolks from the whites. (Keep the yolks to make a super-rich but yummy omelette or maybe some hollandaise sauce to drizzle over some grilled asparagus. My mum makes the best hollandaise sauce).
Place the egg whites into a mixer and beat until soft peaks form. Now add the sugar little by little until mixture becomes glossy and thick and the sugar is dissolved. Now add the vinegar and vanilla extract by folding them gently through your meringue mixture using a spatula.
Spoon the mixture onto your tray, forming a circle of meringue. The circle should be at least 3cm thick.
Put into the oven and bake for one hour. Do NOT be tempted to open the oven during this time! When the 60 minutes has finished, turn the oven off and let the pavlova cool in the oven for about 40 minutes. Again, do NOT open the oven door!
Meantime whip your cream until thick enough that peaks form when you lift the beaters up.
Remove the cooled pavlova from the oven and put onto a serving plate. Now spoon the cream over the top. Decorate using the berries. Dust lightly with some icing sugar if you want.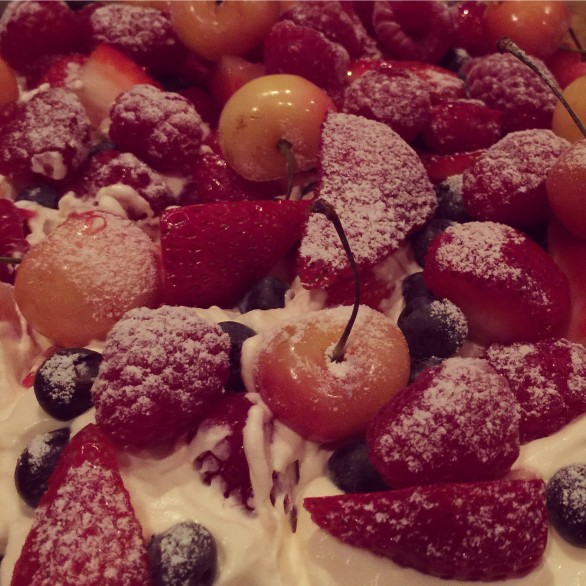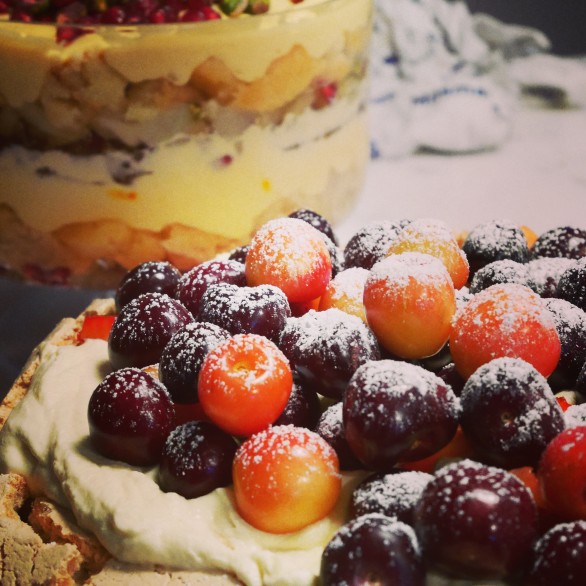 Basically you can decorate your pavlova with your favourite fruits! I hope you enjoy making my pavlova ~ Grace Webster.
Until next time…