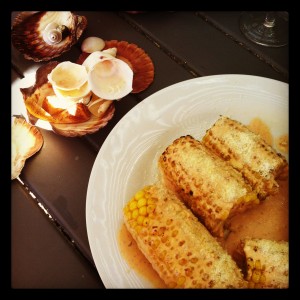 Grilled corn with chipotle mayo
This dish is a perfect for a summer BBQ.  Serve with your favourite meat and salad ~ and a chilled glass of Pinot Gris. Serves 4 (although my children demanded more).
The recipe comes courtesy of one of my favourite chefs; Jill Dupleix.  Her book, Simple Food was one of my go-to books for many years, so much so that whilst I still use some of its recipes, I no longer need refer to the book itself.
You will need:
6 fresh corn cobs, husks and silks removed
1 tbsp quality olive oil
2 tbsp finely grated parmesan
1 tsp smoked paprika
1-2 limes quartered
For the mayo:
1 tbsp chipotle in adobo
75g good quality whole egg mayonnaise
75g sour cream or creme fraiche
1 tbsp lime juice
1/2 tsp dried oregano
S&P
Cook the corn in simmering salted water for 20 minutes or until tender.  Drain and set aside.
To make mayo, place all ingredients in your Thermomix (or other whizzer) and blend, 15 seconds, speed 7 ~ or until smooth.
When ready to eat, heat the BBQ, cut each cob in half, brush with olive oil, season and cook over medium heat until charred. Roll each cob in the mayo, dust with parmesan and paprika and serve with lime wedges. Delicious.
Until next time…