Jump to recipe
I'm probably breaking several fundamental cooking rules with how Grace and I prepared this dish. Frankly, though, I couldn't care less because Grace led the entire process, we had great fun together and the resultant "stew" was bloody delicious.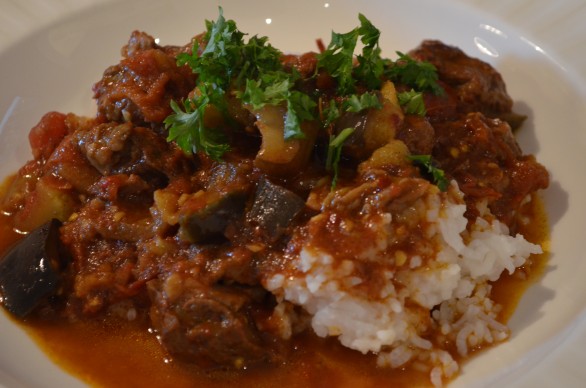 Here's how we did it:
Ingredients
600g lean beef mince (purists would probably use 600g cubed chuck steak)
8 mini striped eggplants, cubed into 1cm pieces (we used mini purple striped variety because it was what we had in the patch. Any eggplant will do.)
1 tsp ground cumin
1 tsp fennel seeds
1 tsp ground turmeric
1 tsp ground ginger
1 and half tsp ground cinnamon
1 tsp chilli flakes (optional)
1 tsp paprika
1 garlic clove peeled, chopped finely
1 cup beef stock
1 tin (480g) diced tomatoes
olive oil
1 large brown onion, diced
1 and half tsp brown sugar
good sprinkle chilli flakes (optional or to taste)
s&p to taste
small handful dried craisins
Instructions
To a heavy based pan add a swish of olive oil and the spices (cumin, fennel, turmeric, ginger, cinnamon, chilli and paprika).
Cook on high heat for 2 minutes or until the fragrance of the spices are released.
Reduce the heat to medium, add the garlic and the onion and a little more oil.
Stir to coat and then cook until onion is softened.
Now add the beef, eggplant, sugar, stock, tinned tomatoes and craisins.
Cook for 30 minutes until fluid reduces.
Add salt and pepper to taste.
Cook for a further 10 or so minutes.
Serve with rice or cous cous topped with chopped fresh parsley.
Easy, delicious and prepared by a kid.
Until next time. x