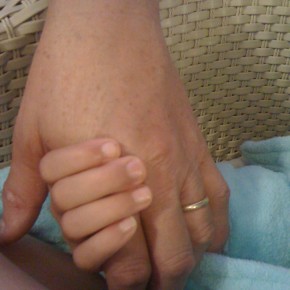 This post is about friendship and food. It's also my personal antidote to the nastiness that's abounded on Twitter lately. Here's the thing. It's my view that if you choose to swim in a fast-flowing river with over 15 million strangers (up to 195 million if you believe Twitter), you have to expect horrid, murky creatures to rise up from the depths every now and then and try to drag the good guys down. The block and report spam function is designed to counter this and does prevent a lot of unnecessary dialogue with such people. Of course, no one should have to put up with relentless attacks by trolls and other miscreants; particularly those using hashtags as a way of perpetuating and spreading their bile. And certainly Twitter needs to give further thought on how to arrest this. These spiteful and unstable people genuinely appall me, but in some form, they are present in every aspect of life so it is of no surprise to me that they exist on Twitter. Maybe I am naive, but I do feel that the above is no reason to be overly critical of, or indeed, exit the social media stage. And this is why….
I've had my fair share of unsettling and unsolicited comments and laughed my head off at ridiculous spam, but I have also enjoyed earnest (and heated) debates with strangers on all sorts of interesting and contentious topics; many of them ending by us agreeing to disagree. Top of my mind when I choose to engage in this way, is knowing that, like a television, I can choose to turn the computer off and walk away.
Once, I was accused of trolling.  At the time, I had to ask a friend what it meant and was genuinely horrified that I could have unknowingly upset someone to the point that they felt I was deliberately trying to hurt them. It was made worse by the fact I had consistently and genuinely supported this person's fundraising efforts, so I was completely bewildered that she could think me capable of such a thing.  It still makes me feel terrible, but I guess this can happen on Twitter when a) you don't know the person in real life and therefore lack a true understanding of their sensitivities and/or imperatives and b) because the written word is far more easily misconstrued than face to face conversations.
Despite the above, I believe the true benefit of being active on social media (and in particular Twitter) continues to be that it affords the opportunity to forge relationships with like-minded people.  This applies equally for both garnering AND disseminating knowledge and information on your chosen areas of interest. I've never seen it as a glorified chat room. Whilst it's true to say that I have met and made friends as a result of using Twitter, I see it more like a giant research facility which I can visit whenever I wish. I choose who I follow, what I read, when I read it, who I share information with and who I support.
And so to the friendship bit.  Back in 2011, I organised a 6 week trip to the UK. Although I was a relative newcomer to social media, I managed to convince a number of people in the UK with whom I'd formed a Twitter friendship to visit me.  I even managed to coerce (didn't take much) the wonderful Bethe Almeras from the US to cross the Atlantic and stay with me.  It could have been an absolute disaster given none of us had met in real life.
It was a good summer in the UK, with more sunny days than not.  Together my new friends and I visited local gardens, farmers markets, went for long walks through fields full of asparagus spears, avoided stinging nettles and wondered at the fat fluffy bumble bees which we don't see in Australia.  The evenings were long and warm and over a period of a week, much food, laughter and, um, Pink Gin was had.  It was immensely reassuring to me to realise that those twitter mates were as lovely in real life as they are online.
Alex Douglas Kane visited, bringing her own griddle, and made the most delicious hot cakes I've ever tasted.  My children still speak of them.
Karen Wilde brought her tent and her infamous striped beanie and introduced my children to the wonders of sleeping under the stars of the northern hemisphere. My children regularly beat her at games of marco polo in the pool. But this was to be expected. They are, after all, Australian water babies.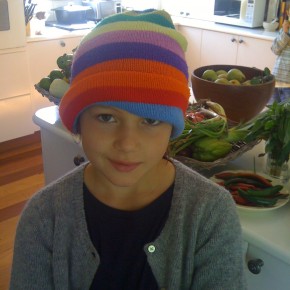 Mr Uku arrived and frankly, I think, was bewildered by us all.
Caroline LG visited with some beer, two kids, a curious husband and ended up staying for an impromptu dinner. Our children hit it off and can't wait to meet up again.
Lily Horseman arrived from the north in a swirl of outdoors enthusiasm and taught my children to whittle wood, create paintings using found objects, how to tattoo stones and made the most delicious crumble using local peaches, gooseberries and plums sourced from the nearby farmers market.
Bethe stayed the longest.  She and I are so closely aligned in our thinking on the rights of a child to play and the importance of providing them with regular access to nature and the outdoors, it is uncanny.  We had much to speak about and it was delightful not to be constrained to 140. She also shares my love of trashy UK TV shows such as Come Dine With Me.  I wish she lived closer.
And finally to food. During the trip I became obsessed with cooking using fresh, seasonal produce each day.  I also became slightly obsessed with the Pink Gin, which sadly, didn't last long.  I blame Bethe for that. It was a wonderful week and I'm putting out the call now for a repeat performance in July 2013.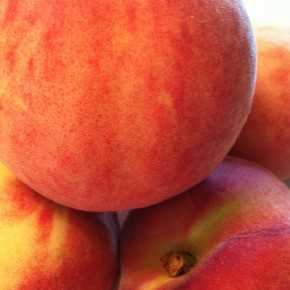 I discovered the delights of golden gooseberries and english peaches after eating the crumble made by Lily, so you'll find a simple recipe over at No Fuss Food. My children nicknamed it Goosebump Crumble, both because of the contents but also because they said meeting such lovely people gave them them the shivers.  I think they were spot on, and so for now, I'll continue to seek out the 'good guys' on Twitter and resolutely ignore the bottom feeders.
Until next time…