My children are on the cusp of not believing in Father Christmas.  They are torn between not wanting to appear to be baby-ish (their words) and desperately wanting to be absolutely certain that it is indeed possible for a fat man to squash himself down the chimney and reward them for being good throughout the year.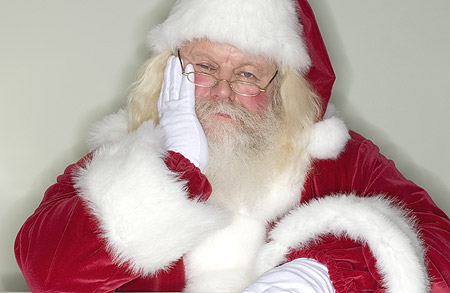 Sadly, I think the former view is winning out, but they are smart enough to realise that pretending to believe ensures that his gifts will continue for a few more years yet.  And sweetly, they also don't want to upset me, as I'm a big believer in the magic that comes with the traditions of Christmas.  Their uncertainty led us to discuss those festive traditions we would never want to be without.  Here's the list they came up with.
Give what we can afford to a charity to help those who aren't as fortunate as us.  This year we're supporting the Salvation Army.
Sleep in.  Do nothing and enjoy it.
Make something handmade for Grandma.  This year it's pot pourri.
Get sun-kissed (not sunburnt) by exploring Sydney's beaches.  We try to swim at a different beach every other day.  Our favourite?  Bilgola.
Unplug and stay that way for most of the holidays.
Spend time with family and friends.
Bake a ham and spend the next few weeks eating it with every meal until we're sick to death of it.
Go to a Church service and enjoy singing the Carols.
Make a Christmas cake from scratch.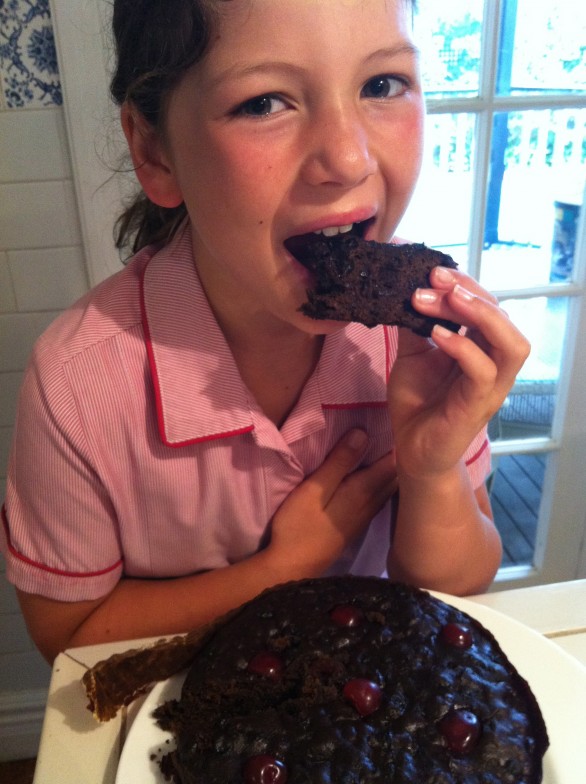 This last one is where I normally come undone.  I'm always frantic (as are most of us) in the run up to Christmas.  Too much to do and too little time.  Wrapping gifts, hiding gifts, putting up trees, booking pets into holiday care, writing and sending cards and gifts, attending a million end of year school & work functions and so on and so on.  I often find myself leaving the cake until the last minute and have been known to bake at midnight whilst hiding gifts.  So imagine my delight (no pun intended) when I discovered that one of our favourite stores, Baker's Delight is now selling Christmas Cakes.  They come in a sturdy tin and truly are delicious.  In fact they remind me of my grandmother's version, which is saying something.  I contacted Baker's Delight to congratulate them and they were so chuffed, they've given me two vouchers valued at $20 each to give away to readers of my blog.  How lovely is that?  Given their reasonable prices, that'll buy a good selection of their Christmas products* and maybe even a few loaves of bread.  The vouchers will go to the two people who can add to my list, those festive traditions one simply shouldn't do without.  Winners will be drawn randomly, out of a hat, by my 8 year old daughter on Monday 19 December.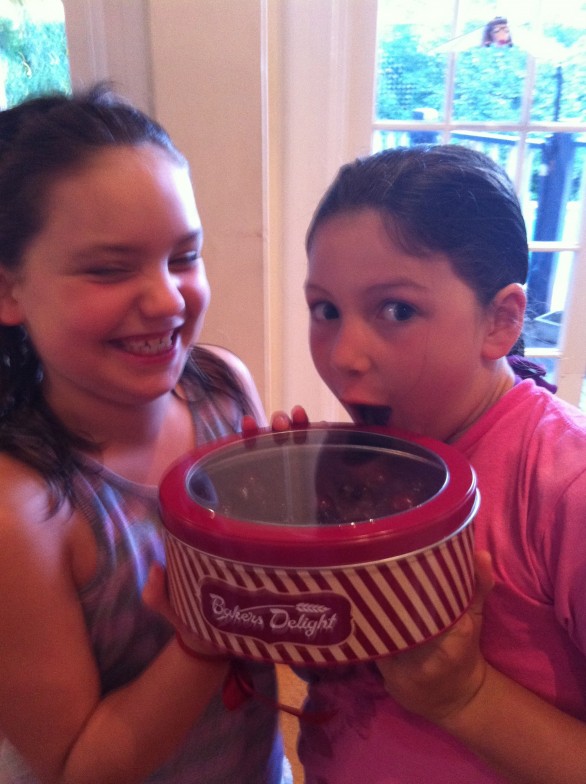 Whatever the festive season means to you, I hope it's peaceful and full of fun.  Oh, by the way, my daughter is still insisting on leaving beer and biscuits out for Father Christmas and carrots and grass for the reindeer.  Maybe, just maybe, she's a true believer after all. x
*They are also selling yummy mince pies and lemon tarts over the festive period.