Some months of the year evoke more memories than others don't they? When I was a child I used to love sitting at the kitchen table with my mother making clove pomanders in December. My little fingers had to work hard to push the spiky cloves into an orange but the resultant decorations were well worth it. Mum was a firm believer that they also kept silverfish at bay, but I'm not so sure. No matter its application, the rich scent of that little circle wafting from the table smelt, well, "happy" to me. To this day, I always think of my beautiful mother when I see a jar of cloves, let alone smell them. And together with cinnamon, nutmeg (or mace) it evokes memories of good times, home as haven and the tingling feeling that Christmas is not far away…

Many pot potpourris have the same effect on me. Considered a bit old fashioned by some, my kids and I still love making the occasional batch, because it is dead easy to do and there are no particular rules as to how one goes about it.
Given I am always looking for a way to mix the outdoors with the indoors, I devised an Australian twist on a Christmas potpourri using Gumnuts as one of the main ingredients: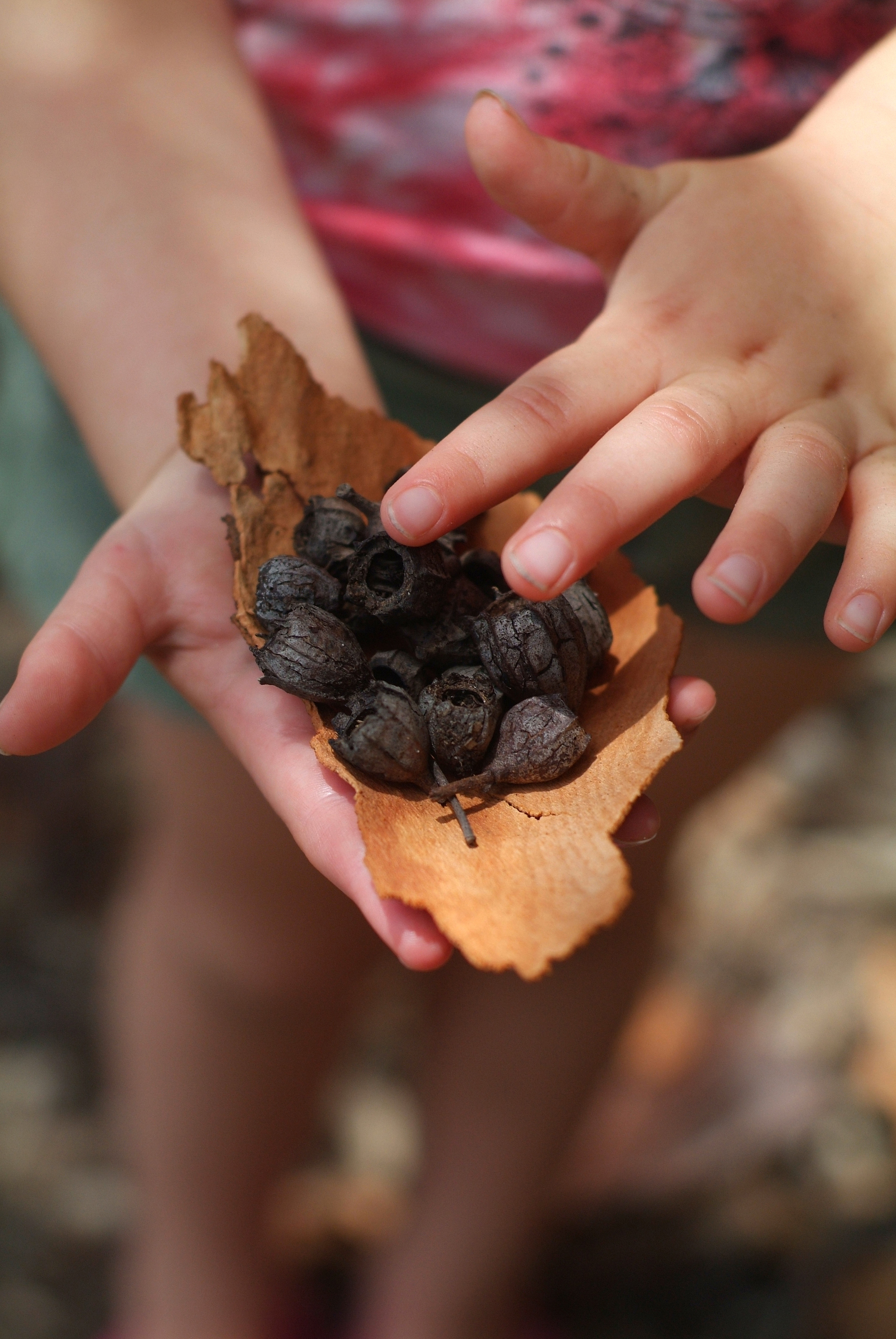 GUMNUT POTPOURRI
You will need to head outdoors and find a good selection of dried gumnuts, (or other interesting seed pods), a handful of orange leaves (and if possible orange flowers) and then head back inside and find:
 1 firm orange
 1-2 teaspoons or Orris Root powder
 a few cinnamon quills
 a teaspoon of ground nutmeg

 a handful of cloves
 drops of orange blossom oil
 drops of cinnamon oil
Method:
 Dry the orange leaves and flowers on a cake rack in a light airy spot for a week or so until crisp to the touch.
 Slice the orange into thin rings around ½ cm in width. Rub with some orris root powder. Place on a cake tray in a cool oven (around 120 degrees Celsius) until the orange has dried and become crisp without burning. Remove and cool completely.
 In a decorative bowl of your child's choice, combine the cinnamon quills, cloves, gumnuts and dried orange leaves, flowers and segments. Now gently transfer the mixture into a large paper bag and add the orris root powder. Hold the bag closed and gently toss the ingredients so the orris root is distributed evenly. You really should store this away for a month or so, but we've never had the patience for that.
 Empty the contents of the paper bag back into your bowl and sprinkle with a few drops of each of the essential oils. Every month or so, you might need to add a few more drops of oil.